Aircraft manufacturers like Airbus, Boeing and Embraer are unlikely to launch major new aircraft programmes until the industry recovers from the coronavirus downturn.
Aviation industry executives made that prediction during a 22 July webinar hosted by FlightGlobal in association with Embraer, saying a confluence of factors have left airframers unlikely to spend billions of dollars to develop 737 and A320 replacements.
Those factors include the coronavirus downturn, looming environmental regulations, the high cost of new programmes and the risk-averse nature of airframers and their shareholders.
"I don't see the OEMs doing anything that involves huge capital investment," Air Lease executive chairman Steven Udvar-Hazy says during the webinar, part of the FIA Connect virtual air show.
"We need to see three of four years of stabilisation in the airline industry," he adds. "We need to re-stabilise and get back to health before we can really think about new airplane designs in a meaningful way."
Tim Clark, president of Emirates Airline, notes a new commercial aircraft development programme might cost $20-$30 billion.
"There's no appetite for that at the moment," he says. "I see a risk-averse nature of boards and shareholders in the OEM and airline community."
Embraer Commercial Aviation chief executive Arjan Meijer says his company's top priority is weathering the crisis.
"We have to get through this, and then we will think about next steps," he says. "Being in the Covid situation, we have other fish to fry."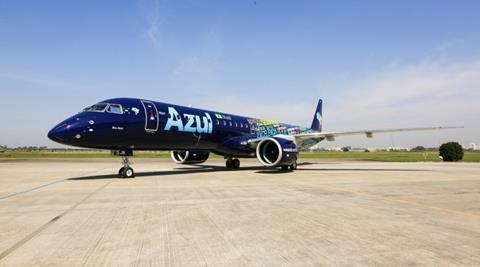 For several years Embraer has hinted at developing a new roughly-90-seat turboprop. Meijer says the business case for such an aircraft remains sound.
But before moving forward, Embraer must balance risks with rewards and be sure that technology has advanced sufficiently to make such an aircraft viable, he says.
"The risk of building a platform… which is not successful in the end is too great," he says. "We really have to make sure that the technology is ready to go."
The executives' comments come several months into an industry collapse that claimed at least one new aircraft programme – the proposed 270-seat widebody jet Boeing had called the New Mid-market Airplane (NMA).
Boeing has said that project is on hold.
Analysts generally suspect that Boeing and Airbus must launch new narrowbody aircraft programmes in the coming years to replace 737s and A320-family jets.
In addition to navigating the financial pressures of the coronavirus downturn, airframers must ensure their aircraft-development strategies account for increasingly heightened environment pressures and looming environmental regulations.
Because aircraft types can remain in production for decades, Boeing and Airbus must ensure they do not develop jets "that 10 years from now will not meet the environmental landscape", Udvar-Hazy says. "That's one of the reasons OEMs have to be very careful."