Qinetiq has completed what it claims is the UK's first demonstration of manned-unmanned teaming (MUM-T), using a standard Airbus Helicopters H125 light-single working in concert with a "semi-autonomous drone".
Performed over the British Army's Salisbury Plain training area in the southwest of England on 19 June, the trial saw the two aircraft working together to identify potential targets in a designated area.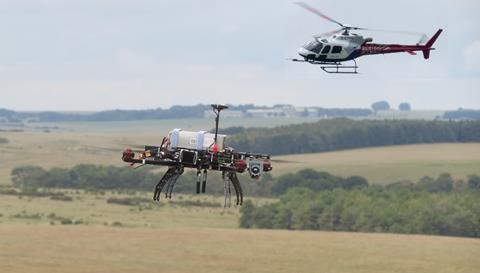 An operator on board the helicopter was able to monitor images sent back from the quadrotor unmanned air vehicle (UAV), allowing it to operate independently. Only if a decision was required did the operator intervene.
Funded by Army HQ, the work will be "delivered" to the service in September by the Defence Science and Technology Laboratory as part of a wider warfighting experiment.
Qinetiq says it was able to perform the evaluation with only minor modifications to the manned aircraft. Control of the UAV was via a tablet computer aboard the helicopter, although it could be transferred from one person to another as required.
"Not only does this ensure an unmanned drone can always be controlled by the person best placed to make decisions, it also paves the way for a more collaborative approach to using defence assets," says Qinetiq.
The H125 was drawn from the fleet Qinetiq operates for the Empire Test Pilots' School on behalf of the UK Ministry of Defence.
Manufacturer Leonardo Helicopters had been due to conduct a similar multi-day trial using one of the British Army's Wildcat AH1 rotorcraft and a small UAV in April and May this year.