In any normal even-numbered year, Leonardo Helicopters would be looking forward to Farnborough – very much the rotorcraft manufacturer's 'home' air show given its history and manufacturing base in the UK.
As a result, the airframer always has a strong presence at the Hampshire event, with aircraft from both its civil and military ranges prominent in the static display.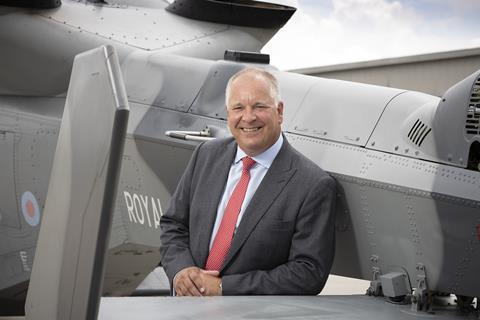 But the show's absence this year will be felt more keenly than most by Nick Whitney, newly appointed as managing director of Leonardo Helicopters UK.
Taking the reins on 1 May, the air show would have been Whitney's first as MD – although as an AgustaWestland, indeed Westland, veteran, Farnborough is familiar ground.
But instead of final preparations for the event, Whitney has instead been navigating the company and its Yeovil factory through the coronavirus crisis.
He thinks the plant has generally coped well, albeit with the inevitable productivity hit from social-distancing and home-working measures.
Whitney says his immediate role is to deliver the "incremental improvements" required as part of a wider reshaping of the helicopter business taking place under its boss, divisional managing director Gian Piero Cutillo.
However, that should not involve major industrial surgery: "You would not expect an MD coming into this role and making a huge course correction, because that would indicate a fundamental problem there – and that's not the case," he says.
"There are incremental improvements needed here and there, [alongside] the actions to achieve those."
Whitney insists that the Yeovil factory in southwest England remains Leonardo Helicopters' centre of excellence for bespoke military programmes – currently the AW101 Merlin and AW159 Wildcat – as well as second largest in the company. That is to say, behind the Italian headquarters and main production line, situated in Cascina Costa and Vergiate, respectively, but ahead of facilities in Philadelphia in the USA and Poland's PZL Swidnik.
However, Philadelphia has been markedly succesful of late, which alongside production of commercial AW139 intermediate-twins and AW119Kx light-singles, has recently won significant US defence contracts with those same helicopters.
In contrast, Yeovil has struggled to bring in orders for its two flagship programmes: currently there are no Wildcats in production, and while the Merlin has been more successful, airframes are being built for just two customers – Norway and Poland – at present.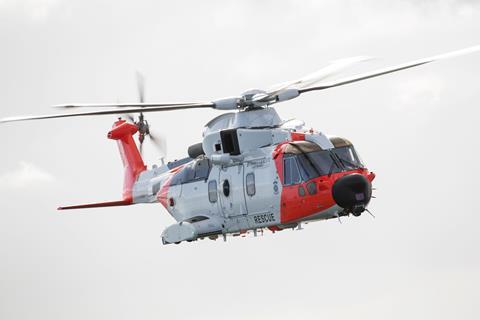 Whitney is acutely aware that to maintain Yeovil's status, it needs sales success. "We need to win some orders. [The backlog] is not where I would like it to be at this moment in time if I'm truthful," he says.
Production and the site's position as Leonardo's military helicopter specialist are secure in the short term, he stresses. However, medium-term prospects need to be turned into concrete commitments.
"It goes without saying that if orders aren't won and if the business is not sustainable then you question the whole piece," he says.
Whitney believes that deals for both the Wildcat and Merlin are realistic, with the former having a number of prospects for anti-submarine and anti-surface warfare roles.
While Whitney does not see a requirement in the UK for the sort of financial largesse France has recently bestowed on its helicopter industry in the form of research and development funding, he stresses the importance of Whitehall support.
"We have got to make sure that the government understands the importance of what we do: the jobs we create and sustain, and the prosperity we bring."
With sustainment and upgrade activities representing around 50% of the Yeovil facility's revenue, that will be partly provided by a steady stream of contracts from the UK Ministry of Defence (MoD). But to win overseas orders, other Whitehall departments come into play.
"We also need to continue to export and what we look for from government is their support – particularly from the Deptarment for International Trade. We get good support and we have to make sure that continues," he says.
"I think the government will be stepping that up. They recognise the need to support the export environment."
But he notes that those export opportunities are driven by a desire on the part of other countries to buy the same hardware "as the British armed forces use".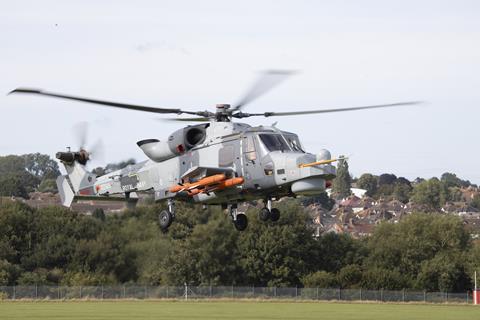 Although the Merlin and Wildcat are flown by the Royal Navy, with the British Army also operating the latter, recent UK helicopter orders have gone elsewhere: to Boeing for new E-model AH-64 Apaches plus more CH-47 Chinooks, and, more surprisingly, to Airbus Helicopters for H135 and H145 trainers.
Much of the UK's rotary-wing inventory has been, or is in the process of being, rejuvenated. Ignoring a clutch of elderly Aerospatiale Gazelles, the next priority will be the replacement of the RAF's Puma fleet. Although upgraded in the previous decade to the HC2 standard, retirement for the 1970s type – produced jointly by Airbus predecessor Aerospatiale and Westland – is still set for 2025, says Whitney.
Leonardo Helicopters has proposed its 9t AW149 for the role and has said that final assembly would be established in the UK if selected.
Therefore, says Whitney, what Yeovil needs is not a bail-out, but British backing: "What we would like is the opportunity to be considered for any future rotary-wing opportunities that the UK has.
"We are well positioned to do that. It is on the record that the Puma is coming to the end of its life unless [the MoD] looks to extend it beyond 2025. If they decide not to extend we would very much like to be able to offer solutions for that capability, and I think we can."
Any extension would be tricky, he points out, given that it is already "a 50-year-old aircraft".
However, a recent co-operation agreement between the UK and USA covering modernisation of the two countries' armies specifically references London's interest in collaborating on the high-speed Future Vertical Lift (FVL) programme.
While Washington has yet to select the winning design for the Puma-sized Future Long-Range Assault Aircraft, the two bidders are both US companies: Bell with the V-280 tiltrotor and a Sikorsky/Boeing team which has proposed the SB-1 Defiant compound, co-axial helicopter.
Further pursuit of FVL is not guaranteed, of course, but it raises a serious question about the possibility of Leonardo Helicopters' future participation.
The company continues to stress that the AW149 would provide a cost-effective and proven solution in the short to medium term and notes that it is already investing in high-speed helicopter technologies.
A further opportunity is also presented by the second generation of the UK's search and rescue contract, so-called SAR-2G, currently being readied for tender by the Maritime and Coastguard Agency.
"That could be a good opportunity for us and it could involve significant work being carried out here in Yeovil if we were successful," Whitney says, pointing out that the majority of AW189s used by Bristow Helicopters to service the current contract were assembled in the UK.
"At the moment we are tracking it. We have not made any final decisions on our way forward. We obviously want to make sure our aircraft types are in the mix," he says.
The message, then, is that while no state subsidy is required, the government does need to take more than a casual interest in its industrial base.
"We have to ensure that they understand… [that] prosperity can be generated in the West Country," says Whitney.