With sustainability the hot topic – save for the weather – at this year's Farnbrough air show, Airbus chief Guillaume Faury insists the airframer is studying radical designs for a future hydrogen-powered aircraft, and that even its blended-wing body concept is not simply a headline-stealer but one of the proposals being analysed.
Faury, speaking in the run up to the event at an equally warm ILA Berlin, shrugged off suggestions that Airbus might prefer a conservative approach to a hydrogen design, pointing out that adopting hydrogen power is, in itself, a bold step and that Airbus – having spearheaded fly-by-wire development – has been prepared to take calculated technological risks.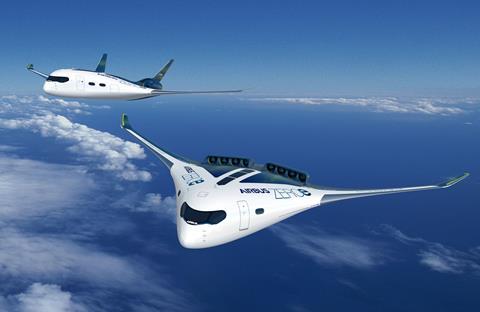 "This will require much more than a small modification of a current-generation aircraft," he says. "The hydrogen [aircraft] will be a completely different platform – that's what we're looking at, working on all parts of what will make a competitive hydrogen aeroplane, for entry into service in 2035.
"Airbus is making major steps forward. Yes, we want to enter into service products that work, that support customers, that deliver the mission."
He points out that hydrogen will demand a "very different" aircraft architecture, to cope with storage and distribution of hydrogen on board. The blended-wing body is one of the configurations that Airbus is "seriously looking at", he says.
Faury is less concerned about pursuing further evolutionary steps – such as a new wing – for its A321neo, given that Airbus is just a couple of weeks into flight-testing of the latest variant, the long-range A321XLR.
"We're not there yet," he says. "The XLR brings new capacity, the ability to open new routes – thin, long routes to test the versatility [customers] need, and agility because it can be put in a fleet of A321s that you operate in a more seasonal way.
"It's a new tool and customers are starting to play with it. They see a lot of potential, so we're not at the point where we're already starting to think of the next move."
Faury insists the A321neo family is "spot-on where we need it", and Airbus's priority is certification for entry-into-service early in 2024.
"We're not making the A321 obsolete. It's the centre of the market, it's very competitive and that's what the airlines like.
"So we're not in the mood for a 'new wing'. We're in the mood for getting the certification, ramping up the product."
The initial A321XLR flight-test airframe is compliant "to a very large extent" with European Union Aviation Safety Agency requirements, but modifications to meet recent additional regulatory criteria – which forced a shift in the service-entry date – will be introduced on the other XLR prototypes.
"[The first] prototype will be contributing to the certification campaign but there will be more than one [aircraft] to make sure we [include] all the requirements and modifications," says Faury, adding that Airbus typically ensures that the last prototype to the line is the fully-compliant model.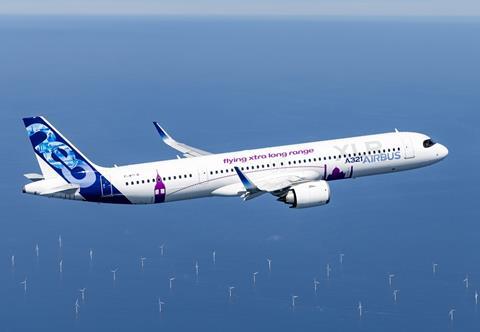 A321neo models, including the XLR, make up some 60% of the A320neo-family backlog and Airbus is striving to squeeze more production capacity, particularly for its largest variant, out of its industrial system.
Faury is confident the airframer will achieve the ramp-up to its highest-ever single-aisle rate – reaching 75 aircraft monthly in 2025 – even as he acknowledges that supply of engines is lagging current output, an echo of the 'glider' situation of 2017-18 when problems sourcing sufficient A320neo-family engines forced Airbus to park dozens of otherwise-complete aircraft.
But he says the issue involves "much smaller numbers" of aircraft than the previous crisis.
"It's going to peak probably mid-year and then we think we'll get more engines in the second half," he says. "That's what engine-makers are telling us. And it looks like they're probably going to make it, so we'll put engines on [aircraft] and deliver [them] at a later stage."
Returning to a monthly rate of 65 aircraft "isn't a walk in the park", says Faury, but he is not fretting over the prospect of hiking to 75 in 2025.
"I spoke to the Airbus people that made the ramp-up from rate 30 to 40, and 40 to 50, and 50 to 60," he says. "They told me: Don't be surprised to be challenged all the time on [adding] 10 points of rate. It's been the history of Airbus, and each time we've made it.
"So I have difficulties understanding, honestly, why we make such a big thing of 'Will we manage to get to rate-75?' – of course we'll manage."
Faury concedes that the rate increase is "not going to be easy", but points out that the supply chain has been assessed for preparation and that the airframer has been "listening to their answers, to their requests".
"We've come to the point where [suppliers] have told us, 'If you have an answer whether you want to go rate-75 or not, [let us know] as soon as you can'," he says.
"We've accelerated sharing, with the supply chain, the fact that we've decided to go to rate-75. And now we have time, they have time, to prepare for it."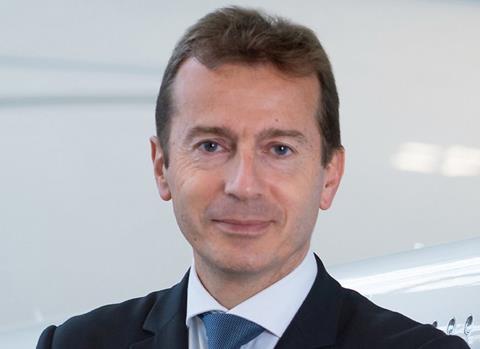 While he has "no doubt" that the manufacturer will achieve this output level, Faury says the current recovery course – affected by the tail-end of the pandemic, with continuing difficulties in China, plus the impact of the Ukrainian conflict and the price of energy – is turbulent.
"What we see now is quite classical of going out of a negative cycle," he says. "You start to ramp up again, you face that kind of situation. [The pandemic] was a very, very severe crisis. So we see more amplification of this counter-effect.
"But by mid-2023, I think it's not stupid to believe we'll be closer to the end than the beginning of this difficult situation, and then we'll ramp up from 65 to 75 [aircraft monthly] at a much more prudent pace and slower pace."
Airbus's twin-aisle business languished during the pandemic crisis, as international long-haul activity stalled. But just ahead of the Farnborough air show, Airbus recorded its strongest month for twin-aisle business for two-and-a-half years with orders for 22 jets.
Faury argues that the market is still recovering, with only a "very small number of campaigns" open, and believes Boeing's superior widebody activity over the last 18 months is largely due to the US airframer's freighter presence – a situation which Airbus is aiming to address with its A350 freighter.
Over 30 freighters have been ordered, from half-a-dozen customers, since the cargo aircraft secured its first agreements at the Dubai air show last year.
Airbus's passenger A350 has drawn unwelcome attention through the highly-public legal spat with Qatar Airways' surface degradation – a dispute yet to be resolved.
Faury attended the recent IATA annual general meeting in Doha, and sat at the same table as Qatar Airways chief Akbar Al Baker, but says: "A settlement is an agreement. It's like with a commercial agreement – as long as you don't have an agreement, you have no agreement – that's where we are."
But while Airbus has been gradually striking off undelivered A350-1000s from Qatar's backlog, the -1000 has been given a strong endorsement from Qantas Airways which, in June, firmed its order for a dozen of the twinjets for its ambitious Project Sunrise initiative.
Project Sunrise will realise a long-held vision of connecting London and Sydney with non-stop flights, building on the London-Perth service launched with Boeing 787s in 2018, and showcase the A350-1000's long-range capabilities as it reduces the 'kangaroo' routes to a single hop.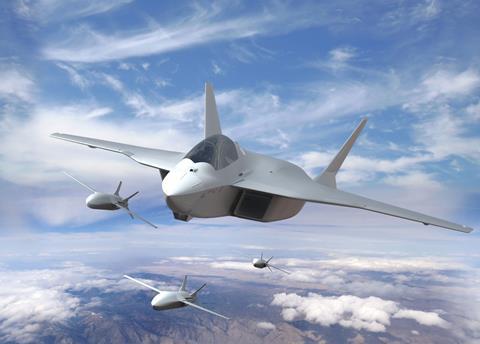 If there is unity with Qantas, finding harmony elsewhere in the business appears harder. Back at the last Paris air show in 2019 there seemed to be a clear sense of direction for the Future Combat Air System (FCAS) being developed by France and Germany, led by their respective military aircraft champions Dassault Aviation and Airbus Defence & Space.
But that relationship has been complicated by the admission in 2019 of Spain to the project, upsetting the delicate balance between the two sometime-rivals. That is particularly true on the New Generation Fighter (NGF), the manned component of the wider programme, on which Dassault is the lead.
Although Indra is Spain's lead on FCAS, Airbus represents Madrid for the NGF development, and its inclusion has forced Dassault to grudgingly cede workshare. But continued wrangling over flight-control system intellectual property rights is holding up the signature of the so-called phase 1B contract which covers the development of a NGF demonstrator aircraft.
The impasse has been characterized by public bickering between the erstwhile partners, with Dassault's outspoken chief executive Eric Trappier offering frequent and pointed criticism of Airbus.
But his Airbus counterpart Guillaume Faury remains confident that a way forward can be found: "I remain completely convinced that there will be an FCAS and there will be an agreement. Why? Because the war in Ukraine calls for more unity, for more cooperation, for more European projects – so the vision we had in 2017 when we started is even reinforced by what's happening. How are we going to get there? By negotiating."
He points out that the FCAS has "come a very long way already", pointing to the progress made since the project's inception in 2017; accord has been found on six of the programme's seven development pillars – engines, sensors, remote carriers and so on – with the NGF the only outstanding area.
He attributes the tension between Airbus and Dassault – and even between the nations – to the model of co-operation being different from that on previous programmes.
"So we need to bridge that gap on how we are going to make it work. We are very close, but this still needs to be agreed." Political pressure should aid clearing the logjam, but elections in France and Germany have prevented that from taking place.
It hardly feels like the sign of a healthy programme when so much rancor is being expressed so early on. But Faury thinks there is room for disagreement. "Is it OK to have these difficulties at this moment? I think it's healthy to look into the eyes of the problem and the fact that we come from different cultures when it comes to operating," he says.
Some of the complaints can also be viewed as jostling for position: "It doesn't mean there will be no agreement moving forward."
Faury says he appreciates Dassault's position "to an extent"; both partners are "trying to defend" the interests of their firms "and we are trying to come together to something that works at the end".
Trappier also recently claimed that delays to signing the Phase 1B agreement will mean that service entry of the NGF is pushed back from 2040 to 2050. However, Faury disagrees: "It's not because we have lost six months that the entry into service is postponed by 10 years." Is Trappier sabre-rattling then? "Ask him", comes the response.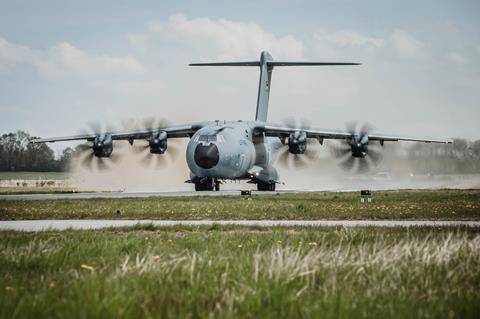 Airbus, meanwhile, continues its efforts to wrestle the multi-national A400M strategic transport back on track. Faury says the programme is now "on the right trajectory" and "we are ticking the boxes one by one".
"We have more and more customers who are expressing satisfaction." He points to the type's use in the evacuation of Afghanistan which was "super successful" as further evidence of improvement, allied to growing interest from new customers. "We have momentum on exports so the A400M is moving forward at a good pace."
The problems are "getting fewer" and overall the company is doing a lot to move the programme forward together with its customers, he says, adding: "Which complex [defence] system today at entry into service is perfect?"
Airbus is "putting all its weight" to drive capability improvements forward, and although he accepts there is still work to do to "be better" on availability issues, overall Faury feels the Atlas is moving in the right direction.
"That's the normal life of a programme at entry into service. The A400M is a very challenging and ambitious programme and that is why we are in that situation. But we are making progress."
Similar criticisms – teething troubles and low availability rates driven by programme complexity – have been leveled at the NH90 military helicopter that Airbus produces as part of the NH Industries consortium alongside Leonardo Helicopters and GKN/Fokker.
But Faury pushes back against characterisation of the NH90 as a failing programme. "It has been very successful," he claims. All complex military programmes experience teething issues, says Faury, adding: "The NH90 is an incredible programme – it has been very successful. How many helicopters have we sold or are in operation?"
He acknowledges that some customers are "not happy" and that "we need to fix the problems". Although Australia and Norway have been the most outspoken in recent times, the background grumble of complaints runs deeper than just those two operators.
But Faury points to others – New Zealand, for instance – who are "super happy with their NH90s and have a high level of availability". That positive news story does not receive enough coverage, he claims.
"We need to learn, it's not perfect, there are difficulties and there have been challenges – when you put many nations together in a programme it's more complex," he says. Although all European defence programmes face that challenge through necessity, "I think it's a model that has proven to work."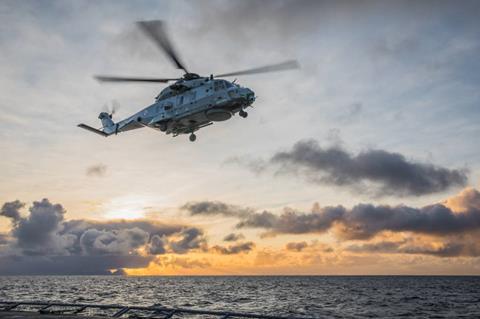 But making sure the challenges of the past are not repeated in the future will be crucial as Airbus and Leonardo contemplate collaboration on a new military helicopter under the NATO Next-Generation Rotorcraft Capability (NGRC) project.
Six nations – France, Germany, Greece, Italy, the Netherlands and the UK – recently committed to launch the concept phase of NGRC, a process that runs until 2025. Between them, Airbus and Leonardo represent, or have a manufacturing presence in, four of the six countries, and are therefore core industrial partners for the effort.
If the NGRC project proceeds to industrialisation, a new medium-class – 10-17t maximum take-off weight – high-speed helicopter could arrive in the mid-2030s. Faury sees it as "hugely important" for Europe but stresses that it is only a research programme at this stage. "We don't know where it's going to go or which countries will be really be interested to be part of [NGRC] when it really becomes a programme
"We will do it as Europeans and I think that's very good."
Ultimately, the shape of any future company to build the capability will be led by the end customer, he says. "The customer will trigger the way this has to move forward – who's going to be involved in the programme, the role that different players will play and how we organize with other ones."
He sees no danger that European countries will back out of the project in favour of an aircraft from the USA's Future Vertical Lift programme. "And genuinely speaking, the solution found by the Europeans are different to those put forward by the Americans which are sometimes very, very high-end, specialised and complex; we are more middle of the market, a broader application. That's what we have seen, at least with vertical lift, in the last decades. And that has been very beneficial, by the way, to the Europeans."
In the meantime, Airbus Helicopters continues to research and mature new technologies for current and future military and civil rotorcraft applications. "We are improving the product and preparing the technologies for the next generation." Topics of focus include decarbonisation, safety, reliability and mission capacity, says Faury, potentially including the use of hydrogen fuel cells as a power source.
Initially that may make an appearance in the urban air mobility (UAM) space, which will be electric-powered from the beginning. "I think by working on electric propulsion on UAM we are preparing the potential use of fuel cells on helicopters, on VTOLs and potentially as well on fixed-wing aircraft.
"We are not going into urban air mobility research only for urban air mobility; it's a very good playground, a sandbox, to be fast, small, failing quickly and trying something else. It's a fast and cheap way of experimenting with technologies."
Hydrogen research is also in future to be conducted at Airbus's sites in the UK following an announcement earlier this year. Its embrace of the country appears in stark contrast to its position prior to Brexit where the threat was to halt investment if its business model was threatened by the wording of any trade agreement. What changed?
"For us as a European company, really believing in Europe, was the position of the company at that time. We were very worried about the potential for a hard Brexit and the consequences it could have had on our industry. So we worked very hard and we were very vocal on the risks."
The transition has "been managed reasonably well", he says, and "has not disrupted us" thanks to both the nature of the deal and the company's preparedness. "And now it is what it is; it's behind us. Brexit has happened. We need to move forward. We just work very closely with the British government and they are very supportive."