ATR expects the aviation industry will require 2,450 turboprop aircraft over the next 20 years as demand for regional connections and lower-emissions air transport increases.
The Toulouse-based airframer also expects a rising demand for turboprop freighters, releasing its latest outlook during the Farnborough air show on 19 July..
"The forecast demonstrates that essential connectivity is needed both for emerging and mature markets now and in the future," says Fabrice Vautier, senior vice-president at ATR Commercial.
"The biggest driver of demand is airlines modernising their fleets to meet the highest environmental standards while making air transport accessible to all."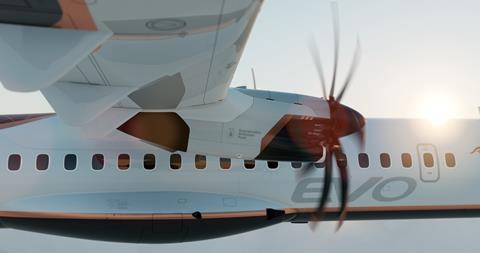 Turboprop passenger aircraft with at least 30 seats currently make up 40% of the regional passenger fleet worldwide, and the number of aircraft is set to rise to 2,660 in 2041 – up from 1,950 in 2022. Asia Pacific, China and Latin America will see the biggest increases, the company anticipates.
Currently, about 45% of all airports rely exclusively on regional aircraft, and 34% only on turboprops.
Turboprops configured for cargo operations will also play a larger role in the future, ATR says.
ATR had 17 passenger-to-freighter conversions in 2021, and the freighter fleet today comprises 140 airframes. ATR expects this to rise to 550 freighters by 2041.
"Freighters have come to play an essential role in supporting regional communities, partly due to the acceleration of the digital economy and ecommerce," the company says.
With the increasing focus on sustainability in aviation, ATR is also preparing to launch its ATR Evo hybrid-electric variant of the family, which the firm says can slash fuel burn by up to 20% over current models. The company hopes to begin the programme in 2023, with the goal of the aircraft entering the market by 2030.
"This will become another step to flying more responsibly, paving the way to a decarbonized future for aviation," ATR chief executive Stefano Bortoli says.