Embraer has partnered with BAE Systems to promote its C-390 transport to potential customers in the Middle East, with Saudi Arabia as their initial sales target.
Signed at the Farnborough air show on 19 July, their memorandum of understanding seeks to draw on the capabilities of the Brazilian-built twinjet and BAE's decades-long pedigree with partnering the Saudi military.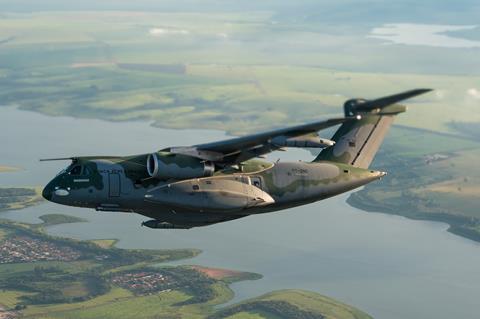 "It is an exceptional and exciting platform, and we want to take it into our market presence in the Middle East, with an initial focus on Saudi Arabia," says BAE Systems Air chief operating officer Ian Muldowney.
"Customers around the world including in the Middle East have got an ageing [Lockheed Martin] C-130 fleet, and we see the [replacement] opportunity arising," Muldowney says. "We want to be able to showcase what we think is an excellent and world-class product."
He adds: "It's not just about transportation, it's the ability to turn the C-390 into a special-mission aircraft with relative ease."
"Embraer brings to the market an unbeatable design able to perform different missions with the same platform, with very competitive maintenance costs and very low operational costs," says Embraer Defense & Security chief executive Jackson Schneider.
"We are able and open to offer more than a platform – we are open to offer partnership with Saudi Arabia," he says. "We are very flexible to do things together."
"It is by far the platform of the future," Schneider says of the C-390. "We are in a very good moment," he adds, pointing to the Netherlands' recent selection of the type to replace its aged Lockheed Martin C-130Hs. Embraer also counts Brazil, Hungary and Portugal as customers for the type.
Also at the show, BAE and Embraer strengthened their relationship on the Eve electric vertical take-off and landing aircraft. Initiated last year, the pact – which covers exploration of potential military applications for the type – now includes plans to establish a joint venture to develop a defence variant of the platform.

Craig Hoyle joined Flight International in 2003, and has edited the now monthly title since 2015. He has reported on the UK, European and international military aviation sector for more than 25 years, and produces our annual World Air Forces directory.
View full Profile