Embraer has secured two more users of its Beacon digital maintenance following fresh agreements with Spanish carrier Binter Canarias and US operator JetBlue.
The new platform aims to support maintenance operations and accelerate an aircraft's return-to-service time by digitising existing processes. Republic Airways was launch customer for the system, while Aeromexico Connect in April started to test the Beacon platform for key maintenance bases.
Binter will now carry out a trial beginning this September of the Beacon system, marking the first European deployment of the system.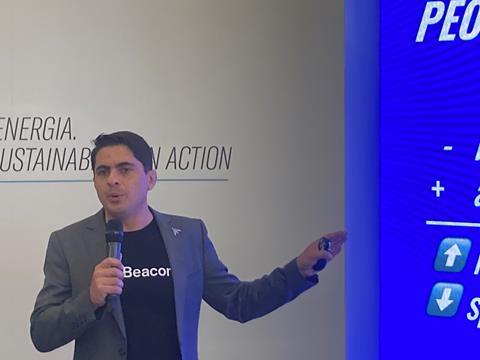 "Beacon is building a new framework to enable the industry to stay connected," explained head of Beacon, Marco Cesarino during a briefing at the Farnborough air show today.
"The conventional flow is 100% analogue and is super-fragmented. Our solution is… to digitalise these analogue processes end-to-end.
"The new business models and ways to interact changes how the world operates," he adds. "There is a huge opportunity to innovate workflows when it comes to operations. This industry has a gap 'below the wing in how it operates."
Beacon is the third project developed out of the EmbraerX technology initiative.