Boeing and Alder Fuels are to collaborate to expand the production and availability of sutainable aviation fuel (SAF) worldwide.
Under the pact, revealed at Farnborough this morning, Boeing will support testing and qualification of Alder-derived SAF, which is made from forest and agricultural residues, and other regenerative biomass. The programme will include flight testing the new fuels.
The partnership is designed to help scale up the production of SAF. "As we work toward the civil aviation industry's commitment to net-zero carbon emissions by 2050, we know that 700–1,000 times more SAF is needed in order to meet this goal," says Boeing's vice-president of environmental sustainability Sheila Remes.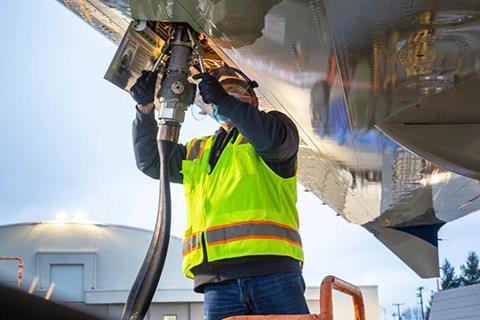 "We also know that according to the US Department of Energy, US forestry and agricultural residues alone could provide enough biomass energy to generate enough SAF jet fuel to displace 75% of US aviation fuel consumption," she adds.
According to the Air Transport Action Group, an industry coalition focused on sustainability, the single largest opportunity to meet and go beyond the industry's 2050 goal is the rapid and worldwide scaling up of sustainable aviation fuel and new energy sources.
"We can now scale up supply to meet the aviation industry's demand," says Alder Fuels chief executive Bryan Sherbacow. The partnership will advance SAF availability as well as "policies that ensure sustainability and foster environmental justice, and cultivate local economies."
In January 2021, Boeing committed to deliver 100% SAF-capable aircraft by 2030 and is also using SAF in its own operations while working across the globe to scale up the supply of the new fuel.
Boeing first began test flights using SAF in 2008, helped gain approval for commercial use in 2011 and enabled delivery flights with SAF starting in 2012.