Boeing sees a tough geopolitical environment driving demand for its 737-derived P-8A Poseidon and E-7 Wedgetail.
Tim Flood, Boeing's senior regional director International Business Development for Europe and the Americas, says there is significant interest in the P-8 in the Asia-Pacific, Europe, and the Middle East.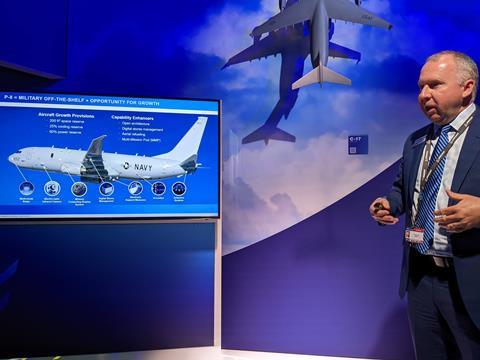 "I would just say clearly there is a strong and growing threat across the globe," says Flood.
He says the anti-submarine and surveillance capabilities of the P-8 are particularly relevant, and that European nations are going to increasingly focus on these missions.
Flood also notes the P-8's growth potential, observing that it has an 18sqm ( 200sq ft) space reserve, 25% cooling reserve, and 60% power reserve. This allows for additional capabilities to be added as necessary.
Boeing is, however, cognizant that the US Navy's programme of record for the type is winding down. Still, Flood says the P-8A is in a "good spot" from a production perspective, and that demand for the ASW type and the E-7 airborne early warning & control aircraft remain "very healthy".
He attributes this to the US Air Force's planned acquisition of the E-7, as well as international interest in both E-7 and P-8.
On the P-8, Flood has this to say: "We are at the end of the US Navy programme, so now it's our job to focus the energy on these very interested customers in the European, Asia-Pacific, and even Middle East regions on the benefits to try to encourage them to move faster on their procurement timeline."
He did not provide a timeline for the E-7 and P-8 production run, but says that Boeing would like to avoid the situation that occurred with the closure of the C-17 line in 2016, at a time when the company still saw demand for strategic airlift.
The E-7 is operated by Australia, Turkey and South Korea. The United Kingdom has also ordered three examples, and the USA aims to obtain the type.
Five nations operate the P-8: Australia, India, Norway, the UK, and USA. In addition, Germany, South Korea, and New Zealand have placed orders.