Boeing is to seek approval for its 737 Max 10 under existing guidelines instead of focusing on adapting its strategy to account for a new certification law set to take effect in December.
Speaking in London on 17 July, Boeing Commercial Airplanes chief executive Stan Deal said Boeing is focused on certifying the jet under the "primary path".
But the airframer will, if needed, seek some type of exemption from pending new requirements, adds Deal.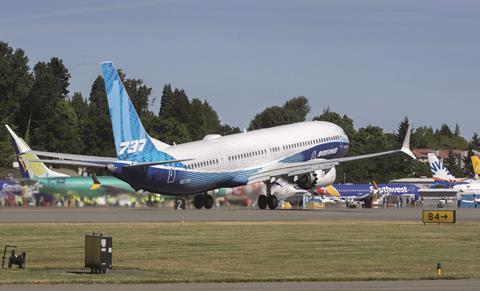 "We are in the middle of that right now – doing the certification work," says Deal. "If it takes a little more time, we are going to go back to Congress and ask for more time."
The Max 10 faces uncertainty due to the implementation of a 2020 law that requires, as of December, newly certificated aircraft to have a modern "flightcrew alerting system", which the jet lacks.
Boeing insists the type's existing pilot alert system, though dated, is safe. Although the Max 10 could be certified without the modern alert system before the new requirement takes effect later this year, that seems unlikely considering Boeing expects the jet will enter service in 2023.
Deal says Boeing's certification timeline for the type "still connects to the end of the year". But, he adds, beating the deadline would be "a very sporty schedule at this point".
Adding a modern alerting system to the Max is "technically possible" but not "the safest alternative", he argues.
Boeing has argued that the safest route is retaining the existing cockpit alert system; it points out that the Max 8 and 9, which are already certified, have the same older alert technology, as does the Max 7, which should gain approval this year.
Changing the Max 10's flightdeck could create safety problems because 737 pilots have long been accustomed to the jets' existing cockpit-alert system, Boeing claims.