Boeing has unveiled a digital modelling tool that predicts the degree to which various measures, including new technologies and the use of "sustainable aviation fuel" (SAF), will reduce the aviation industry's carbon emissions.
"Cascade" is a Boeing-designed website-based software tool that the airframer says will "show best routes to zero carbon" emissions.
The airline industry has pledged by 2050 to achieve "net zero" carbon output.
In addition to Cascade, Boeing is highlighting several "Future Flight Concepts" at this year's Farnborough show. It also released a computer rendering of a turboprop aircraft, but Boeing confirms the image represents a purely conceptual design reflecting the company's "evaluation and testing of alternative propulsion sources".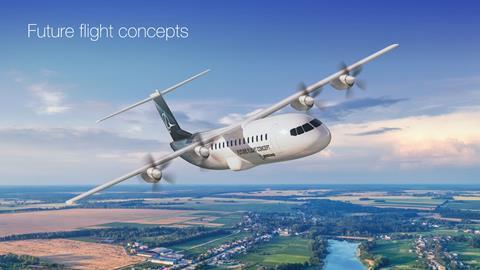 Boeing has already finished an initial version of Cascade, which it developed in consultation with universities, and which incorporates flight data from sources like Flightradar24.com, says Brian Yutko, Boeing chief engineer for sustainability and future mobility.
"We have the global air transportation system modelled here," he adds.
Cascade presents baseline estimates of the global airline industry's carbon output, and estimates how that output might change in the coming years based on criteria set by users.
Those criteria include, for instance, operational-efficiency improvements, the use of SAF, and the acquisition by airlines of more-efficient current-generation aircraft and of still-undeveloped future aircraft, such those with electric, hybrid-electric and hydrogen-based propulsion systems.
"We have the models in the back end to be able to go into ever-finer detail," Yutko says.
The system allows users to dig deep. They can specify various types of SAF and varying degrees of SAF usage, and specify the source – solar, nuclear, wind, coal – of electricity used to power electric aircraft.
Users can also, for instance, model a future in which small electric aircraft operate varying percentages of short-route flights. Cascade will spit out an estimated carbon effect.
Boeing chief sustainability officer Chris Raymond says Cascade will "help our industry visualise, for the first time, the real impact of each solution".
Boeing executives say the model shows what the industry has already said – that to meet net-zero goals airlines must begin burning massive quantities of SAF, which including biofuel. Problem is, SAF is available in only minuscule proportions to the industry's total fuel usage.
Raymond estimates airlines could use 7,000 to 1,000 times the SAF currently available.
Also, carbon-reduction benefits of SAF remain debatable, with some researchers warning the carbon footprint of some biofuels – the most common type of SAF – could be worse than that of fossil fuels.
Story corrected on 23 July to note that airlines need up to 1,000 times more SAF, not 10,000 times.
Boeing says it plans to use Cascade when working with airlines and policy makers. Executives say Boeing may eventually make the tool publicly accessible online.
The airframer is also highlighting at Farnborough other clean-energy work. Executives note Boeing has completed hydrogen-technology demonstrations, developed a tank for storing liquid hydrogen and invested in partner Wisk Aero, which is developing a small electric aircraft.
Boeing is also working with GE Aviation under a NASA-backed project to equip a Saab 340B turboprop with a 1MW-class hybrid-electric propulsion system.
Additionally, Boeing highlighted both the hydrogen-powered-aircraft rendering and that of an aircraft with truss-braced wings. Boeing has for years been working on the truss-brace design.