Boom has partnered with Northrop Grumman to develop a special mission variant of the supersonic Overture aircraft for the US government and its allies.
"Time is a strategic advantage in high consequence scenarios, from emergency evacuations to disaster response," said Blake Scholl, Boom chief executive, on 19 July at the Farnborough air show.
So far, the start-up had focused just on civil applciations. But Scholl says, "that's only half of the potential" for the aircraft.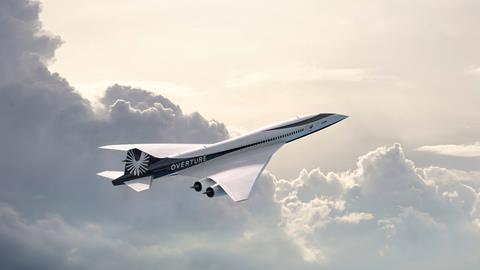 Overture brings "paradigm-changing capabilities" to military operations, he adds.
Some of those capabilities could include surveillance and reconnaissance, command and control as well as mobility and logistics missions such as emergency medical and troop transport, the companies say.
"Pairing Northrop Grumman's airborne defense systems integration expertise with Boom's state-of-the-art Overture supersonic aircraft makes perfect sense," says Tom Jones, president of Northrop Grumman Aeronautics Systems.
"Together we can ensure military variants of Overture are tailored for missions where advanced system capabilities and speed are critical."
Boom aims to fly Overture for the first time in early 2026, and plans to commence customer deliveries in 2029. The aircraft has a range of 4,350nm (8,065km) and will fly on 100% sustainable aviation fuel, the company says.