While facing continued certification, production and delivery headaches, Boeing Commercial Airplanes chief executive Stan Deal sees the manufacturer arriving at Farnborough air show with its eyes still on the future.
When Boeing last arrived in the familiar settings for the Farnborough air show four years ago, few could imagine what the following years would have in store for the manufacturer, its customers and the industry overall.
Back then, Boeing's commercial division was riding high, closing 2018 with a record of more than 800 deliveries, a bursting backlog boosted by almost 900 new orders and an operating profit just shy of $8 billion.
Times have changed.
Since then, Boeing has been through unprecedented change, as two fatal crashes of its flagship re-engined narrowbody led to the 20-month grounding of the Max, a painful airing of process failings, a renewal of leadership and ongoing overhaul of certification oversight. Such factors continue to complicate its delivery of new products.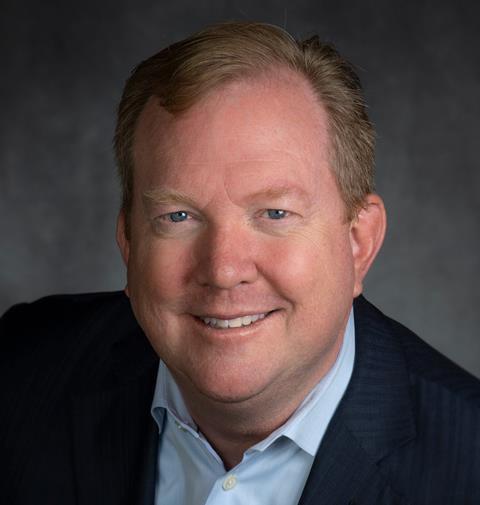 That was even before the little matter of a global pandemic, resulting in the most damaging impact on air travel demand ever seen.
Small wonder Boeing Commercial Airplanes chief executive Stan Deal is keen to be back at an event where it can put the focus on products again
"There is going to be a huge degree of humility going into the show," he says when asked about Boeing's approach, during a 21 June interview. "We are going to let the products do the talking."
That includes the international debut of its new 737 Max 10, which will join the 777-9 in the daily flying and static display at Farnborough
There remains, however, no shortage of live issues for Boeing to deal with as it enters the show.
MAX BACK IN ORDER
Boeing's last appearance at one of the big summer air shows came at Paris in 2019 in the aftermath of the Max grounding. Even an eye-catching, confidence boosting preliminary deal for the Max from British Airways and Iberia parent IAG – a commitment firmed in recent weeks – could do little to take away from the over-riding issue of what it would take to get the the aircraft back in the air.
"Broadly I'm feeling quite good after what we have gone through on the Max and the tragic two accidents and having to make fundamental changes on the aeroplane that we own," says Deal about progress with the Max.
"We got that done. We got through the certification process with the four global regulators. We've got a China approval and we are now working to restore the airplanes in China. Obviously with Covid, that's been intermittent – and you can understand why."
Alongside certification issues, the manufacturer also faced the twin challenges of bringing the 383 aircraft that were flying prior to the March 2019 grounding back into service, as well delivering its own inventory of Max – aircraft assembled but not delivered during the grounding.
"Largely, we have ungrounded all the airplanes around the globe, except the aircraft in China," says Deal. "We are in the midsts of liquidating the inventory we accrued while the Max was grounded. We continue to add resources… to get more of those airplanes liquidated faster.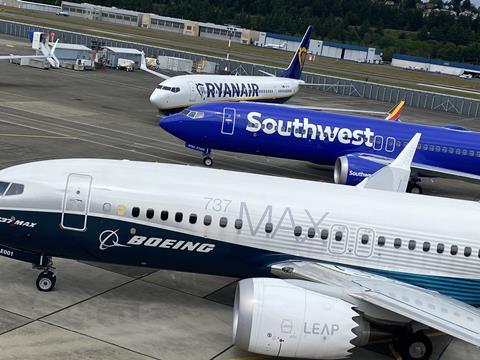 "That is going well. That is not an easy job," Deal adds. He notes that assembling new jets takes "almost as much time" as updating previously assembled jets to the Max's approved post-grounding configuration, which includes a modified flight-control system. "You have to update the standard of the aeroplane to the current production build, plus [make] the changes we committed to on the airplane," he says.
Boeing, in its most-recent financial results, reported still holding 320 undelivered 737 Max at the end of March.
For customers now flying the type, Deal says the reaction has been positive. "It's flown almost 1.5 million flight hours. Reliability is at almost 99.5%. Consumer response has been very good. For airlines, fuel burn is better than what they anticipated. It is doing what it's supposed to be doing," he says.
But questions remain, including around when crucial certification of its newest 737 member, the Max 10, will come.
WIDEBODY DELIVERY WOES
Around the time Boeing was preparing to bring the Max back into service, a new delivery headache emerged around the 787 programme. The company halted deliveries of the type in October 2020 because of manufacturing quality issues that included gaps between fuselage sections being larger than specified. Other issues have also surfaced.
Deliveries remain paused and will resume only after the US Federal Aviation Administration (FAA) approves rework being done by Boeing. In April, the airframer said it had completed such activity on some undelivered 787s and submitted a "certification plan" to the FAA.
"You've heard [Boeing president] David [Calhoun] say it over and over: We are not going to put a timeline on it ,because we are not going to pressure on the regulator," says Deal.
"We have submitted everything to the FAA, the FAA will review that, they will probably ask questions – it's a give-and-take passing of information – and then we are continuing to rework the airplanes, anticipating regulatory approval. We are engaging with customers. I am not going to put a date out there yet."
Boeing has, though, put a new date out there for what was until-recently another delivery uncertainty; when its new 777-9 will enter service. Those timings have been complicated by increased scrutiny of the certification process – also a fallout from the Max crisis.
That ultimately led Boeing in April to delay its expected first 777-9 delivery by two years, until 2025, attributing this to "an updated assessment of the time required to meet certification requirements".
Deal says: "I think that time was absolutely necessary to give our team and the regulators, what is now the normal course of a regulatory process, which is a lot detail around the design assurance of the product. I understand that as a manufacturer; it's an important criteria. That took time. We are over 2,400 flight hours on the airplane, we've done our fuel-burn performance – it's right on."
At the same time Boeing has been dealing with the impact of heightened certification processes, airline delivery requirements have been equally fluid, as carriers first sought to delay and defer incoming aircraft as demand evaporated in the pandemic. Then, some customers sought accelerated deliveries as recovery took hold. It has left a number of customers increasingly vocal about the lack of certainty about when they can expect new aircraft.
"We try to keep everyone in sequence to be fair. Some people want to move [deliveries] out – that's ok. Some want to move [them] in, and we look at those opportunities," Deal says.
"We have been through those iterations on an ongoing basis. You have to, because they are trying to do fleet plans, we are trying to do production plans, we are trying to decide which airplanes to do the rework first on," he says. "We are pretty stable on that, the ultimate moment though is when the first aircraft delivers, because that is moment of certainty, and at that point we will have clarity with every customer on a projection of deliveries."
SUPPLY CHAIN STRAIN
Boeing also faces the major complication all manufacturers are challenged with coming out of the pandemic: the extent to which global supply chains can keep pace with demand.
"Our supply chain is going to be a key factor to rate ramp-up, and I think that is an industry view, not just a Boeing view," Deal says. Boeing has been working on reaching a production rate of 31 737 Max aircraft a month, a point it yesterday disclosed it reached in June.
"When we set rates, we do an assessment of the supply chain, and see as deep as we can. The one thing that was less predictable in this early phase of the ramp-up was… how fast human capital would come back in, and at what rate the people who were made redundant got back, and it's been slower than anticipated.
"We are in the midst of ramping up manufacturing, and, ultimately you need every part to build and deliver an airplane. We are running on a notion of driving operational stability. We are not going to move our product through the production line with empty parts. We've played that play; it doesn't end up with high-quality products at the end.
"We will only take the next step in the rate ramp-up as we see the suppliers' capability," Deal says.
CARGO COMES TO THE PARTY
One of the few upsides from the pandemic for the manufacturer and airlines alike has been the boost to air freight. Both Airbus and Boeing have responded by launching a new dedicated widebody freighter. Boeing unveiling its 777-8 Freighter with a commitment from Qatar Airways at the end January.
"We believe, looking forward, that cargo demand is a much-more stable growth story," Deal says, adding that Boeing was quick to adapt to greater freighter demand during the pandemic.
"We dedicated a lot of our 777 demand and rate to the freight market. In fact, we are producing basically all freighters on the 777 classic line – the 200F – and we have been able to take advantage of that opportunity. The 767 sold extremely well [and] the 737 conversion programme has unprecedented orders.
"We have been well positioned in freight and it was just natural to launch now," he says.
Alongside new products such as the 777-8F, Boeing will be highlighting wider themes of innovation at Farnborough.
"We are going to talk about sustainability and the roadmap there. And under the sustainability umbrella, we are going to highlight some of the investment we have made in non-traditional [technology]," Deal says, highlighting Boeing's electric air tax initiative Wisk. "That is more than just eVTOL – that's Boeing investment to explore the benefit of electric population in that market and beyond… That product is an autonomous product out of the gate."
Deal adds: "We are in the airplane business. We are about investing in the future. And during all of the downturn and all of the things we had to do with the Boeing company, we continued to invest."
Article updated to correct number of flight hours completed on 777-9 is over 2,400