Looming airline demand for widebody jets could leave Airbus and Boeing struggling to ramp production in the coming months.
That is according to Dassault Systemes head of aerospace and defence, who predicts production challenges now facing narrowbody programmes could soon affect widebodies, too.
"We'll see [orders] coming up in the next six-to-nine months on the widebody," says David Ziegler, vice-president of aerospace and defence at software provider Dassault Systemes. "Essentially, what you have seen is the OEMs not getting ready enough, fast enough, for the ramp up."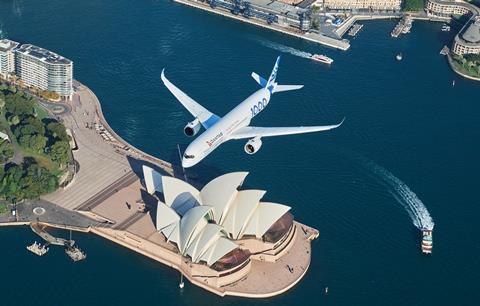 Airlines globally trimmed widebody fleets amid the pandemic. They retired in-service aircraft while delaying and cancelling orders for new jets. Additionally, Boeing's deliveries of 787s have been halted for most of the last 21 months due to manufacturing quality problems.
Of course, carriers needed far fewer jets amid Covid-19. International air travel has recovered to about 65% of pre-pandemic levels, Boeing's head of commercial marketing recently said.
Ziegler expects demand for widebody jets to spike as international air travel continues recovering. And as the recovery takes hold, airlines will find themselves short of widebodies.
Exactly when that might happen remains debatable, but Zeigler thinks widebody orders could rebound in as soon as six months.
"Long-range travel is going to pick up again in six to ninth months," assuming another Covid-19 spike does not smoother the recovery, he says.
Separately, Ziegler thinks geopolitical tension will continue pushing up military spending, including spending on network systems that can modernise and integrate countries' military forces.
"Now in the defence industry, you are seeing massive investments," he says.
"You are seeing the battlefield as a systems of systems," he adds. "You need to have your space satellite communications network tied with your flying aircraft. That needs to be tied with your air control, with your troops on the ground."