Air taxi company Eve, the Embraer-backed electric vertical take-off and landing (eVTOL) developer, unveiled a new vehicle configuration as well as the craft's interior at the Farnborough Airshow.
The Melbourne, Florida-based company, which now has letters of intent for 1,910 of its aircraft, has redesigned the type to have a conventional wing and an empennage. In past design concepts, it had a canard and a wing. The new design still features eight rotors, providing vertical take-off and landing capability as well as a smooth in-flight experience.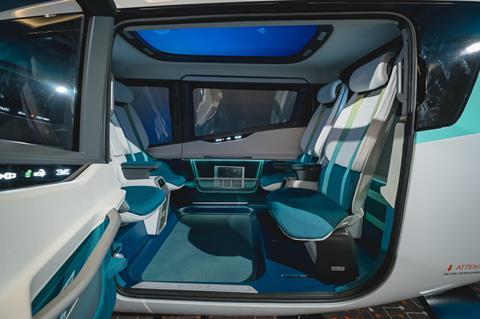 "Our teams have been working hard to create the best solutions for the global urban air mobility environment, and our aviation experience… not only gives us confidence that we are on the right path but also puts us at the forefront of the market," Eve co-chief executive Andre Stein said on 17 July.
The interior mock-up shows a single pilot seat up front, with four passenger seats – two forward-facing and two rear-facing. According to the company, Eve will have 54nm (100km) of range.
The company, which went public earlier this year, now expects to have the aircraft in service by 2026.
Through its public offering, Eve secured $357 million in equity funding, including $185 million from Embraer and $147 million from a consortium of investors, among them BAE Systems, Rolls-Royce, Thales and US regional airlines Republic Airways and SkyWest, the company said.