GKN Aerospace is to collaborate on the RISE open rotor demonstrator engine being developed by GE Aviation and Safran joint venture CFM International.
Enabled by an agreement with GE announced at Farnborough this morning, the UK-headquartered firm will supply its latest technologies to the programme, as well as component design services. It will also develop a validation plan for the engine.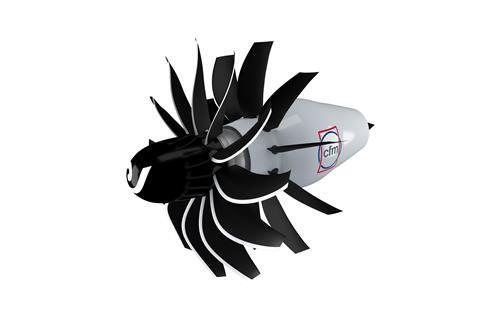 GKN Aerospace is now working with GE to establish detailed schedules for its participation.
RISE was launched by CFM in 2021 and is aimed at maturing the technologies required for a new engine to enter service in the mid-2030s. Flight tests of the engine are scheduled for the middle of the decade.
GKN Aerospace sees itself as occupying a unique space in the engine world. Thanks to its 2012 acquisition of Volvo Aero, the company has whole-engine design capabilities.
Speaking ahead of the show, chief technology officer Russ Dunn says GKN Aerospace aims to "operate one level above our station".
"We don't look to compete with the OEMs, but we want to develop OEM capabilities so that we can really understand how to provide solutions that are better for the customer."
Beyond the overall design capability, "and the ability to analyse the performance and the efficiency of the engine", GKN Aerospace will can also inject its technologies into a programme, Dunn argues.

Dominic Perry is deputy editor of Flight International but also contributes extensively to flightglobal.com. Although specialising in the coverage of the helicopter industry, he has written on most topics in aerospace – be they commercial, defence or business aviation. In addition, there has been an increasing focus on the decarbonisation of the industry and zero-emission flight initiatives.
View full Profile