Gulfstream expects to fly a G500 with the US Federal Aviation Administration (FAA) this week as part of efforts to lift landing restrictions on that jet and its G600 sister stemming from two hard landings.
Mark Burns, president of the Savannah-based airframer, expects the FAA could lift those restrictions, which prohibit landings in all but calm wind, in September.
Gulfstream is working to roll out a software update that addresses the issue, and the FAA has shifted some staff from focusing on G700 certification to validate the software change, Burns added, speaking at the Farnborough air show on 19 July.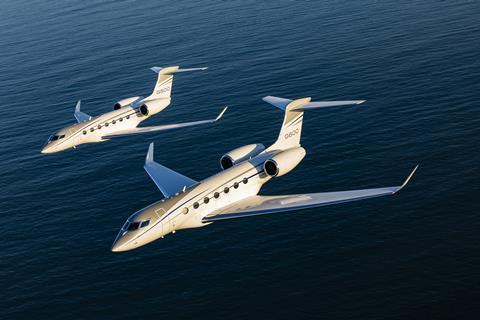 "We've reached the point where we will begin flying with the FAA this week to validate the software," he says. "Our schedule is to lift the restrictions in September… I think we are still on track to do that."
FlightGlobal reported in early May that Gulfstream had restricted G500s to landing only when wind speeds do not exceed 15kt (28km/h). It also prohibited landings when gusts exceed 5kt. Gulfstream issued the provisions in flight manual updates.
Days later, the FAA formalised the restrictions in airworthiness directives (ADs) that applied to G500s and G600s – some 120 US-registered jets in total. The pair share similar flight-control systems.
The moves were in response to hard landings in February 2020 and April 2022.
Both incidents involved erroneous activation of the jets' angle-of-attack(AoA) "limiter" function (also called the alpha limiter), which is designed to prevent stalls.
The systems activated due to "rapid, large and oscillating pilot control inputs near approach reference speeds, induced by unstable atmospheric conditions and gusty winds", the FAA said.
This resulted in the AoA limiter overriding "the pilot control input", the regulator said.
Gulfstream says its software fix will prevent such issues.
Burns says the FAA "has moved some resources" from the G700 to the G500/G600 software fix but downplays the impact of the shift on the G700's certification timetable.
"We don't feel like, in the long run, it should be a major impact," Burns says. "The software that we are working on for 500/600 – the enhancement, to lift the limitations – [is] actually the same software that is on the G700."
Gulfstream has not delayed its planned first G700 delivery beyond a three-to-six month delay it disclosed in April, Burns notes. That shift puts the first delivery in 2023.