Start-up Japanese company Feel Air has signed a tentative commitment for 36 ATR turboprops.
Announcing the letter of intent at the Farnborough Air Show on 18 July, ATR says the business intends to use a mixture of 42-600 and 72-600 aircraft – including the short take-off and landing variant, the 42-600S – for domestic operations.
ATR explains that Feel Air is a holding company under which franchisees will "gradually establish a family of regional airlines that will cover different areas within Japan".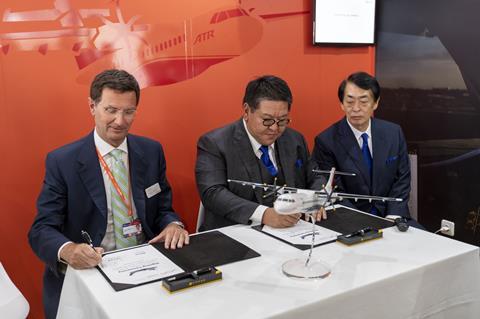 Feel Air's chief executive Hideki Ide states: "Our fundamental goal is to improve regional air mobility in Japan by connecting local destinations that currently do not have air service, thereby creating stronger links between regional businesses and people, generating new markets, and enriching local economies."
Feel Air intends to establish "at least five" airlines "over the coming years", Ide adds.
The business has no relation to the Feel Air once mooted by Norwegian as the name for a planned low-cost long-haul unit back in 2009.