Leonardo Helicopters will in 2025 begin flying a new 3t-class uncrewed rotorcraft for the UK Royal Navy (RN) under a £60 million ($71 million) contract revealed on 21 July.
The four-year contract will see the airframer's Yeovil site in southwest England develop a helicopter prototype – referred to as "Proteus" – capable of deploying sonobouys for anti-submarine warfare missions.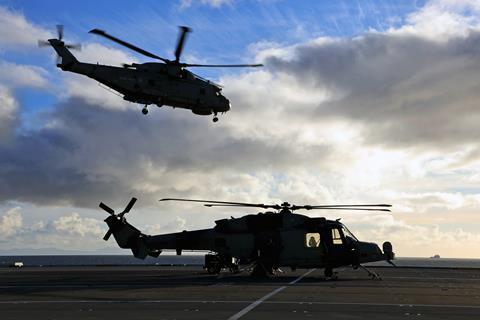 But the rotorcraft, which Leonardo says will weigh "up to 2-3t", will also be tested for other roles including ship-to-ship resupply and casualty evacuation.
Building on two previous technology demonstration programmes, including evaluations using the company's SW-4 Solo, the Rotary Wing Uncrewed Air System (RWUAS) phase 3 effort will see the new aircraft perform its first flight in 2025, the UK Ministry of Defence (MoD) says.
The MoD says if the project is successful "the new aircraft would provide a platform capable of delivering improved surveillance and intelligence, enabling crewed Royal Navy helicopters to re-deploy on alternative missions".
In a recent policy document, the MoD outlined its intention in the future to increasingly deliver find, strike and lift capabilities using uncrewed and autonomous systems.
Rear Admiral James Parkin, director, develop, Royal Navy, says: "Proving the benefits of larger uncrewed aircraft – rotary and fixed-wing – will be key to understanding whether such aircraft can effectively contribute to future Royal Navy capabilities, particularly for anti-submarine warfare."
Leonardo Helicopters says the move supports the company's "strategic goal" for its Yeovil site to expand and also "become the UK's hub for uncrewed military VTOL [vertical take-off and landing] aircraft".
Adam Clarke, managing director of Leonardo Helicopters UK, adds: "Uncrewed VTOL aircraft will transform military capability whilst also having application in other market sectors, both in the UK and around the world.
"This contract represents a major step towards our future in next generation uncrewed military technology and the sustainment of unique engineering skills onshore."

Dominic Perry is deputy editor of Flight International but also contributes extensively to flightglobal.com. Although specialising in the coverage of the helicopter industry, he has written on most topics in aerospace – be they commercial, defence or business aviation. In addition, there has been an increasing focus on the decarbonisation of the industry and zero-emission flight initiatives.
View full Profile