Aircraft lessor BBAM Limited Partnership has ordered nine 737-800 Boeing Converted Freighters, adding more momentum behind Boeing's already strong freighter business.
The US lessor already held orders for 31 737-800BCFs, meaning the fresh deal brings BBAM's commitments to 40 of the type.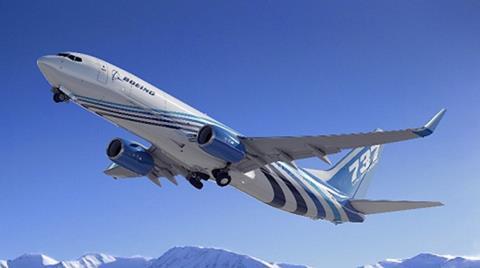 BBAM intends to acquire the nine newly ordered 737s in 2024 and 2025, says BBAM senior vice-president and head of freighter programmes John Lynch.
"We have a number of customers lined up for the aircraft," Lynch says of the 737-800BCF. "We are seeing a lot of interest in them. We see more customers than we have aircraft available".
BBAM is set to be the customer to take delivery of the first 737-800BCF completed at a Kelowna, Canada conversion facility operated by maintenance provider KF Aerospace, says Boeing. KF intends to open two 737-800BCF conversion lines at Kelowna in 2023.
The lessor's existing fleet includes 550 passenger aircraft, and its freighter orders reflect the company's diversification into new markets, Lynch adds.
Boeing now holds orders for more than 250 737-800BCFs, says the airframer's vice-president of commercial services sales Anbessie Yitbarek. Boeing has reported strong demand for all its freighters, the 737-800BCF included.
In recent days, the company said it is opening a second 737-800BCF conversion line at a company operated Gatwick conversion facility.
Boeing has also partnered to produce 737-800BCFs in Costa Rica and the Chinese city of Guangzhou.