Lilium is partnering with AAP Aviation Group to develop an electric vertical take-off and landing (eVTOL) network in Scandinavia that will see the Norwegian firm order up to 40 Lilium Jets.
In addition, AAP – better known as a crew and training provider – will identify and develop suitable landing sites in the Nordic region.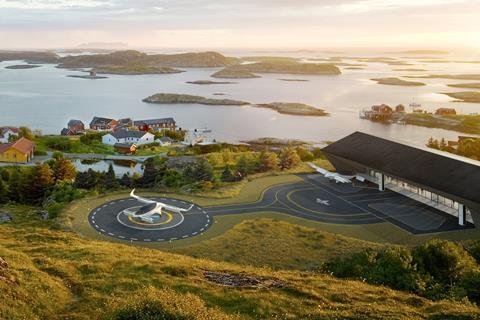 Espen Hoiby, chief executive of AAP, says: "We have disrupted the aviation industry once before and are set do so again.
"Due to the mix of water, terrain and mountains, Norway is particularly suited to regional air mobility. With its vertical take-off and landing capability, high speed and regional range, the Lilium Jet can achieve hours of time savings compared with today's transportation modes."
Although the Lilium Jet will not have full icing protection due to weight considerations, Sebastien Borel, senior vice-president, commercial, says the aircraft will be less prone to the phenomenon due to it typically flying below 5,000ft.
Customers "will [still] be able to operate for the majority of the year," he says.
The Lilium Jet has cleared the preliminary design review gate and the company is now working towards the critical design review next year, says Borel.
Lilium earlier this year announced a change to the configuration of the Lilium Jet's propulsion system, reducing the number of electric fans from 36 to 30, it also pushed back service entry until 2025.
Tests of the company's Phoenix 2 unmanned technology continue at a facility in Andalusia in southern Spain.
Borel says the test programme is "making good progress" with the jet flying on average "several times per week".
The key transition of the main wing from vertical to forward flight "happened exactly as we hoped", adds Borel. A full transition, which also sees the canard rotating, will be achieved "later this year" alongside higher-speed flights.
Manned production-conforming prototypes are planned to arrive from 2023.
Lilium revealed two additional partnerships at Farnborough: a deal with Belgian firm ASL Group for six Lilium Jets and a five-unit commitment from Andalusian VIP operator Helity Copter Airlines.

Dominic Perry is deputy editor of Flight International but also contributes extensively to flightglobal.com. Although specialising in the coverage of the helicopter industry, he has written on most topics in aerospace – be they commercial, defence or business aviation. In addition, there has been an increasing focus on the decarbonisation of the industry and zero-emission flight initiatives.
View full Profile