Lockheed Martin thinks its vertical lift technology is uniquely suited to meet Europe's future helicopter needs.
Speaking at the Farnborough air show, executives with Lockheed subsidiary Sikorsky pitched the Connecticut manufacturer's X2 line of coaxial rotorcraft to European buyers.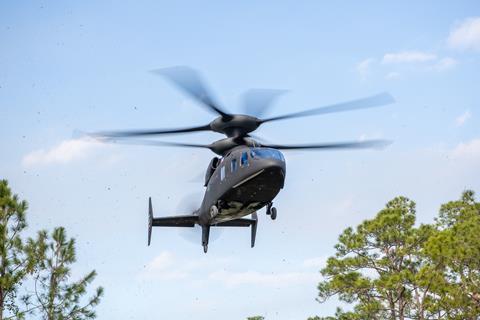 "We are ready to promote this technology internationally," said Luigi Piantodosi, director of future vertical lift international for Sikrosky on 18 July.
The X2 family of aircraft are centred on a coaxial, dual main rotor assembly coupled with a rear-mounted propeller for generating additional forward thrust.
With the latest X2 models reaching cruising speeds above 230kt (425km/h), Sikorsky argues that design is vastly superior in terms of speed and manoeuvrability to the conventional, single main rotor arrangement used by most utility lift helicopters.
"That is something you quite frankly cannot get from a single, main rotor," says Jay Macklin, Sikorsky's director of US Army future vertical lift programmes.
Macklin, a former army UH-60 Black Hawk pilot, argues that the ability to fly fast, at low altitude will be essential to ensuring survivability in a modern, contested environment, such as Russia's ongoing war in Ukraine.
The comments are aimed squarely at defence officials in six European countries, which in June announced a multi-national effort dubbed the Next Generation Rotorcraft (NGRC) project in which the participants will combine efforts to design and procure a new medium utility helicopter.
The programme envisions delivering the platform to the military forces of France, the UK, Italy, Germany, Greece and the Netherlands some time between 2035 and 2040, the estimated period in which those allies' current medium-lift assets will reach the end of their lifecycle.
Lockheed and Sikorsky are currently pitching two of their X2 platforms, the DefiantX and RaiderX, as candidates for the US Army initiative to find new utility and scout helicopters, a programme known as Future Vertical Lift.
A decision in the army Future Long Range Assault Aircraft (FLRAA) competition to replace Sikorsky's long-serving Black Hawk, is expected in the coming months.
Piantodosi says that while European customers are largely keeping quiet ahead of the FLRAA decision, which has pitted the Sikorsky-Boeing DefiantX against Bell's V-280 Valor tiltrotor, there is currently "huge interest" in X2 technology from Europe.
When asked if the Lockheed would pitch either its DefiantX FLRAA design or the smaller RaiderX scout airframe for NGRC, Piantodosi says its likely the ultimate submission will liekly be a third design "that sits somewhere in between" the two competitive prototypes built for the US Army.
Macklin agrees with that prediction, describing RaiderX and DefiantX as "bookends" to the current X2 line, with potential new airframes, tailored to meet different needs, falling in the middle.
The final design proposal will be determined by the still forthcoming requirements for the NGRC project.