The US military has reached an agreement with Lockheed Martin over the procurement of several new lots of F-35 fifth-generation fighters.
Speaking at the Farnborough air show in the UK on 19 July, Erin Moseley, vice-president of strategy for Lockheed's aeronautics business, confirmed that a deal for 375 aircraft as part of Lots 15 through 17 has been reached.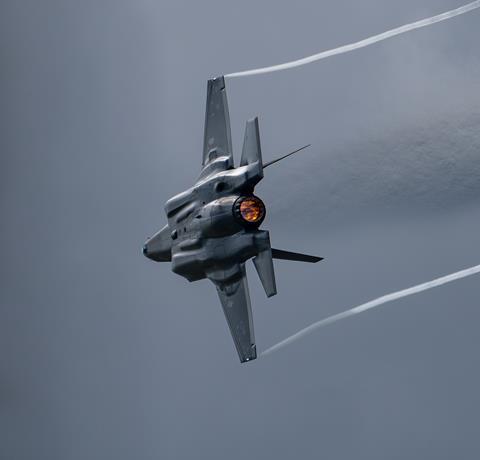 "In the midst of continued Covid-19 impacts and decreased F-35 quantities, the F-35 enterprise was able to achieve a cost per-jet lower than record-breaking inflation trends," Mosely says.
"This price also includes modernised hardware needed to power Block 4 capabilities, which ensure the F-35 remains the world's most capable aircraft in production today," she adds.
The Pentagon also praised the deal, with Department of Defense acquisitions chief William LaPlante saying that the final details will soon be forthcoming.
"We are pleased to announce that the Department and Lockheed Martin reached a handshake agreement for the next F-35 lot buy on a basis of 375 aircraft," says LaPlante. "We are looking forward to providing specific details at contract award."
Lockheed notes that while the so-called handshake agreement is on the basis of 375 aircraft, the final quantity may change based on any adjustments made by the US Congress in the fiscal year 2023 budget, and on any orders requested by international partners.
Delivery is expected to take place over a three-year period. Neither Lockheed nor the Pentagon would immediately divulge the per-unit price, but both say such details will be made public in the final contract.
The price of each F-35 varies for the advanced jet's conventional, carrier and short take-off and vertical landing variants, but has generally declined since production first began in 2007, when it soared above $200 million per aircraft.
Research by equity analysis firm Jefferies estimates a current per-jet sticker price of around $82 million. That would make the 375-unit contract worth some $30 billion to Lockheed.
Jefferies notes that ongoing inflation in the USA, additional costs related to the Covid pandemic, and the higher cost of F-35 Block 4 capabilities have all contributed to pushing the price higher from levels quoted in the pre-pandemic years.