Boeing's Phantom Works believes autonomy will be an important force enabler in future conflicts, as it seeks to rapidly advance technology for military customers.
Speaking with journalists at the Farnborough Airshow, vice president and general manager of Phantom Works Steve Nordlund says his organisation has gone far beyond its origins developing fighter aircraft, and indeed has adopted the tagline "From Seabed to Space."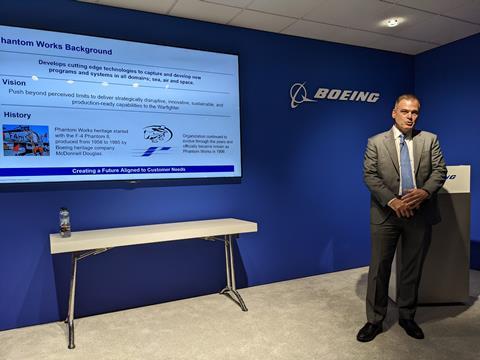 "Over time we have grown," says Nordlund. "It has been an organization focused on understanding what our customers' missions are, and moving out on new technologies, new capabilities to go solve their warfighting problems and providing them the most advanced weapons systems that technology will allow us to have."
Given the Phantom Works remit, inevitably a good number of the projects it works on are classified. Nonetheless, Nordlund offers the Boeing Australia MQ-28A unmanned air vehicle as a good example of how Phantom Works helped push the envelope in developing a new aircraft. Announced at the Avalon Airshow in March 2019, the first prototype was rapidly developed and conducted its maiden flight in February 2021.
Nordlund did not discuss details about the programme, but the MQ-28A is envisaged as a "loyal wingman" operating autonomously or with manned aircraft.
"We see a lot of high growth going on what I call the next chapter of autonomy," he adds. "As we start to look at the threats that are facing us and our allies, autonomy will play a bigger, bigger role. And it will be counted on as a force multiplier for our customers to enable the mission."