ATR has secured commitments for 10 ATR 72-600s from newly-formed leasing platform Abelo, which is also reaffirming a commitment for 10 short take-off and landing versions of ATR 42-600s from Elix Aviation.
Abelo was formed out of the merger of Elix with Adare Aviation Capital, disclosed in May with the aim of further investing in turboprops.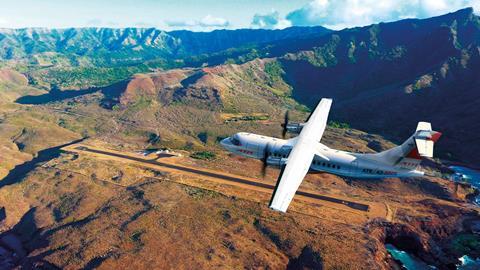 Today during the Farnborough air show, turboprop manufacturer ATR said that Abelo has signed a heads of agreement covering 10 ATR 72-600s. Deliveries of the ATR 72s will begin next year.
In 2019 Elix signed a tentative deal to be a launch customer for the ATR 42-600S turboprop. ATR says Abelo is also to confirm its order for the 10 STOL versions, deliveries of which will begin in 2024.
Abelo chief executive Steve Gorman says: "The new deal is further proof of our commitment to create growth and value for regional operators. As we are looking to expand and become the go-to lessor of turboprops, our strong links with ATR will prove invaluable."