For GKN Aerospace, the past four years have been, well, tumultuous is too strong, so let's just say they have been interesting.
Back at the last Farnborough air show, GKN Plc – as was – had not long been acquired by Melrose Capital, an investment company whose strategy is to buy up underperforming businesses, restructure them, improve their performance, and sell them on.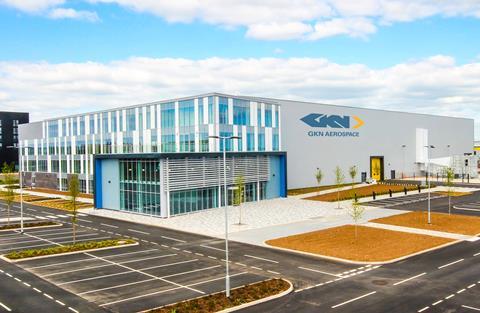 But restructuring is a notoriously broad term, covering a multitude of tactics from genuine nurturing and improvement on the one hand, to break-up or piecemeal closure on the other. And Melrose, rightly or wrongly, had a reputation for being ruthless with companies in its portfolio.
With the GKN acquisition having only closed on 29 March 2018, it was, by the time the Farnborough air show rolled around in July, still too early to discern what the new owners had in store, save for the fact that a sale was prevented until 2023 thanks to a covenant agreed to as part of the Melrose acquisition.
Some initial restructuring was begun in 2019, putting the business on a slightly firmer footing when the coronavirus outbreak struck early 2020.
But in common with the rest of the industry, GKN Aerospace saw orders dry up – sales fell 27% that year and only returned to growth during the second half of 2021, remaining below pre-pandemic levels. If there was a bright spot, though, it was the robust performance of its defence business which gained 8% in 2020.
Management has also changed since the previous edition of Farnborough: in 2018, GKN Aerospace was led by Hans Buthker who abruptly resigned in September 2020, to be succeeded on an interim basis by Peter Dilnot, Melrose's chief operating officer. In turn, he was replaced by David Paja – an executive from outside the aerospace industry – who arrived in August 2021.
Restructuring was already under way prior to Paja's arrival but that process has accelerated under his leadership, says Melrose in its 2021 annual report. But among the usual cost-cutting (reducing the operational footprint in Europe and the USA, for example) streamlining divisions and management, and portfolio reshaping (non-core businesses Fokker Service and Fokker Techniek were sold off) there are signs of a different business emerging.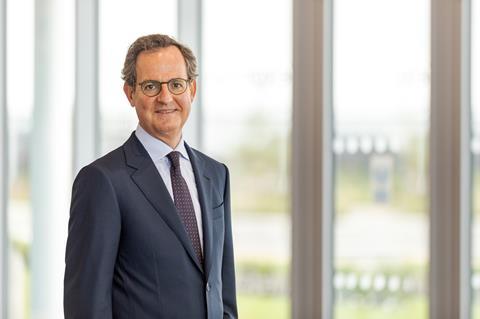 Although GKN Aerospace has not abandoned its traditional focus areas (now reorganised into three divisions: civil, engines, and defence) it is positioning itself to take advantage of aviation's pivot towards decarbonisation.
"Over the past few months we have been trying to sharpen our vision, our mission – where we are heading. We look at it as what do we want to be in the industry? Clearly we want to be a relevant player and leading the transformation of the industry from the front," says Paja.
While that is partly related to being seen as a "trusted partner", the real differentiator, says Paja, is on the "sustainability of our products, our technologies, and how they enable the leap to net-zero".
"We are really making substantial investments and gearing our efforts to become a major player in the transformation of the industry."
That has seen investment in facilities - including a portfolio of global technology centres, the latest of which opened in the UK last autumn – and ground-breaking research projects into new technologies including advanced composites, hydrogen power – whether in fuel cells or combustion – and additive manufacturing.
There are key partnerships too: with Airbus on its Wing of Tomorrow programme (see below), and with engine manufacturers Pratt & Whitney and CFM International on their respective future propulsion programmes.
Russ Dunn, chief technology officer, argues that the company's unique "OEM capabilities" on both engines and aircraft – acquired through the purchases of Volvo Aero and Fokker, respectively – allow it to be more than simply a valued supplier.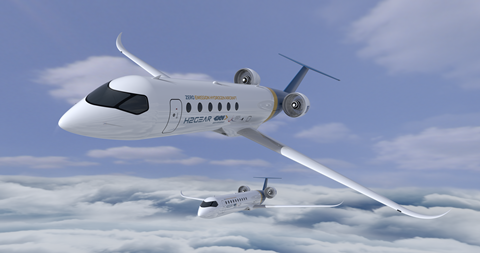 "Our philosophy is that we want to operate one level above our station. That doesn't mean we want to compete with OEMs, but we want to develop OEM capabilities so that we can really understand solutions that are better for the customer."
On an engine, that means GKN can design and analyse the overall engine, as well as the parts for which it has responsibility, providing feedback or suggesting improvements accordingly.
GKN's whole aircraft design capability has not only helped it attract a new breed of customers - agreements are in place with advanced air mobility start-ups like Eviation, Lilium and Vertical Aerospace – but also enabled the company to better assess which it wants to work with, says Dunn.
"We have done a lot of work to look at the different platforms that are out there, perform our own analysis that says who do we think are credible? Which airframes do we think are good? We have targeted customers we think we can work with."
Ironically, there was in the recent past debate as to whether this level of design expertise was still required, admits Dunn. "If you back two or three years, we were genuinely having the debate whether our level of airframe and aircraft design capability was more than the industry needed.
"Now suddenly in this space these companies are desperate to work with people who can provide whole aircraft or airframe design capability."
But if the aerostructures agreements in the AAM segment are playing to GKN's traditional strengths, its research into hydrogen fuel cell powertrains threatens to take the company into an entirely new area. Should the UK government-backed H2GEAR project succeed and deliver a viable system by 2025 – and Dunn thinks such a powertrain could power anything up to a 96-seater – then there could be a clear opportunity to add another business line.
Paja also thinks the investment permitted by Melrose in projects like the network of technology centres and H2GEAR where the returns are many years in the future, is a sure sign of its owner's desire to make GKN a better business.
"Melrose are long-term thinkers in terms of investment," he says. "They have been extremely supportive of investing in the areas that will position the company for a much more sustainable but also successful future."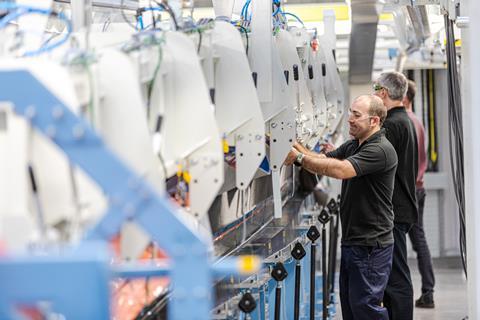 Why Wing of Tomorrow will lift production
Aside from validating improved aerodynamics and wing architectures, the Airbus-led Wing of Tomorrow effort seeks to validate new composite manufacturing techniques that will allow production at the rates required to support a narrowbody programme.
At present, the production techniques used on composite widebody wings are slow and require large and expensive autoclaves to cure the structures. That is fine if you are building say, 12 aircraft per month, but the technology does not scale to support the sort of rates seen on a narrowbody programme.
GKN is producing next-generation composite spars and the fixed trailing edge for the Wing of Tomorrow.
Dunn compares the maturity of its new production system for these parts with those at the same stage of the Airbus A350 programme, for which GKN produces similar parts.
The A350's spar "was nowhere near this level of maturity at the first build. We have already got to the point where we are producing spars of quality on the third shipset that are good enough for entry into service. That's how mature the technology is that's been developed," he says.
GKN is currently in the rate demonstration phase – showing that one production cell can deliver a capacity and cycle time that could then be scaled up.
Dunn says it is targeting "the ability to deliver at rate 100. So we wanted a system that could scale to that type of rate." Aside from the production of several test structures, GKN is also making heavy use of simulation to identify and develop solutions to potential pinch points.
In 2021, GKN delivered to Airbus the first 18m (59ft)-long spar made for the Wing of Tomorrow initiative; two further such components will be shipped this year.

Dominic Perry is deputy editor of Flight International but also contributes extensively to flightglobal.com. Although specialising in the coverage of the helicopter industry, he has written on most topics in aerospace – be they commercial, defence or business aviation. In addition, there has been an increasing focus on the decarbonisation of the industry and zero-emission flight initiatives.