A partnership between Telespazio and Thales Alenia Space are teaming up on a UK government initiative to boost commercial space activity.
The firms, subsidiaries of Italian manufacturer Leoanrdo and France's Thales, announced on 20 July at the Farnborough Airshow that their partnership – known as Space Alliance – will invest in expanding the UK's commercial space sector, which is currently valued at $20 billion (£16 billion).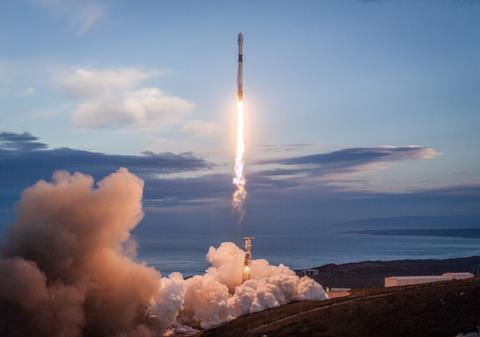 "Space Alliance will be able to act as a catalyst for this growth," says Thales Alenia Space's UK chief executive Andrew Stanniland. "Our plan will see us develop valuable intellectual property in the UK," he adds.
Stanniland's counterpart, Telespazio UK chief executive Mark Hewer, says the alliance will leverage its expertise in fields like satellite communications and earth observation to provide added value for commercial and military customers.
"As we look to advance the UK's space capabilities, companies like Telespazio and Thales Alenia Space will be able to combine UK onshore research and engineering with international collaboration to help realise the UK's vision of becoming a space-leading nation," Hewer declares.
The Space Alliance was a product of the UK government's National Space Strategy, released in 2021.
"Space is there to solve problems," says the UK Space Agency's deputy chief executive for programme delivery Ian Annett.
The aim of the strategy is to foster growth in the country's private space sector and the economic potential surrounding it. Annett notes that one of the early goals is the development of domestic launch capability.
In the far north of Scotland, the start-up SaxaVord says it has that achievement close at hand.
The company is building a $51 million commercial spaceport on the Lamba Ness peninsula in Shetland that will be the site of the first-ever vertical launch complex on UK soil. The company plans to conduct its first launch beefore the end of the year.
Shetland's geographically isolated position in the far north of Europe is a "massive advantage", says SaxaVord spaceport operations director Scott Hammond.
The physics of orbital rocketry favour launch sites on the equator and near the poles, where less fuel is required to propel a given payload to escape velocity. And although their climates differ vastly, Hammond says Shetland actually has conditions comparably suitable to NASA's space launch complex at Cape Canaveral, Florida.
SaxaVord is currently approved for up to 30 launches per year. Hammond says two customers have already confirmed and he expects the company will reach that capacity in fairly short order.
The economic benefits of a space industry are already paying off. As part of the spaceport project, the UK and Scottish governments ran fibre optic cable to the SaxaVord site in Unst.
Hammond says that during an outreach event to gauge local support for the spaceport one of the local crofters recalled the construction of a nearby Royal Air Force outpost in the 1950s.
"They brought electricity," the man told Hammond. "We were the first island in Shetland to get electricity."