Vertical Aerospace is readying its VX4 prototype for a first flight later this summer, having begun ground tests of the electric vertical take-off and landing (eVTOL) aircraft.
Eduardo Dominguez Puerta, chief commercial officer at the Bristol, UK-based developer, says power-on of the flight-test asset has already been achieved.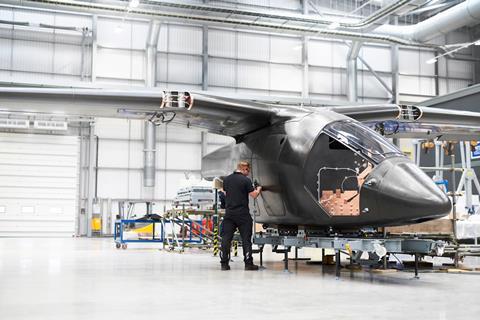 He adds: "We are currently in the process of getting the prototype ready and very soon we should enter into the flight-test campaign."
Ground tests have been running "quite aggressively", says Puerta, and follow on the heels of earlier windtunnel and component-level evaluations.
Service entry for the baseline four-passenger air taxi model is set for 2025, with other variants to follow.
Vertical on 18 July signed an agreement with Babcock International to examine the potential for emergency medical and cargo transport variants of the VX4.
Puerta says the companies will learn from the initial passenger operation of the aircraft and will then "know what can be done and understand the addressable market for those uses [and] how much and how quickly we will go into that".
Phil Craig, managing director of UK aviation at Babcock, says before committing to an order for the VX4, it will have to "understand its capability and range and what the limitations are".
Vertical has been assembling its initial flight-test prototype at the Bristol-located Global Technology Centre (GTC) of wing and wiring system supplier GKN Aerospace.
GKN designed and manufactured the electrical wiring interconnection system (EWIS) at its facility in Hoogerheide in the Netherlands and then delivered it to the GTC for installation.
UK-headquartered GKN's next step will be to manufacture and integrate the wing and EWIS for the certifiable aircraft.
Michael Cervenka, president of Vertical says: "We are delighted with the tremendous support and expertise GKN has provided in helping us assemble the demonstrator aircraft in their world-class Global Technology Centre."
Vertical – which has a full-size VX4 mock-up on its Farnborough air show stand – at this stage intends to build the aircraft in the UK.
"There would need to be a damn-good reason not to do it near Bristol," Cervenka says.
Vertical has also selected CAE as its global training provider. The Canadian firm will design and develop a training programme and be the exclusive training device provider for the VX4.

Dominic Perry is deputy editor of Flight International but also contributes extensively to flightglobal.com. Although specialising in the coverage of the helicopter industry, he has written on most topics in aerospace – be they commercial, defence or business aviation. In addition, there has been an increasing focus on the decarbonisation of the industry and zero-emission flight initiatives.
View full Profile