Air taxi developer Wisk Aero expects this autumn to unveil the production-conforming version of its electric vertical take-off and landing (eVTOL) aircraft – the sixth generation of its air taxi – which it will bring through US Federal Aviation Administration (FAA) certification.
Although that aircraft is not at Wisk's display at this year's Farnborough air show, the next best thing is: the company's fifth iteration of its design, a two-seat model called Cora.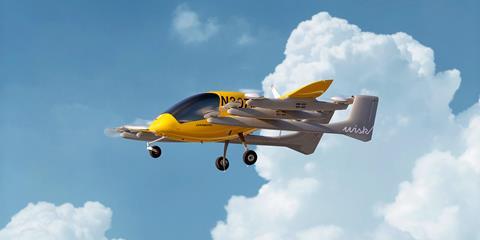 Executives from Wisk and Boeing – which part owns the start-up – are quick to note that their team is among only a few to have cracked the complicated problem of developing an aircraft capable of taking off and landing vertically, and transitioning into forward flight.
"Doing that is a very difficult flight-control problem. There are only a few that can design a plane that can take-off vertically and fly horizontally," says Brian Yutko, chief engineer for sustainability and future mobility at Boeing, Wisk's majority shareholder, alongside Kitty Hawk.
Cora has 12 wing-mounted lifting fans and one aft-mounted pusher propeller. A typical take-off involves ascending vertically to about 40ft, then transitioning to forward flight, a process taking about 25s, says Wisk chief executive Gary Gysin.
He says California-based Wisk is flying test aircraft "almost every day", and that its fleet has logged some 1,600 test flights.
The aircraft at Wisk's Farnborough chalet has flown about 400 times but has since been decommissioned as a flight asset.
Wisk in October plans to reveal its sixth-generation aircraft – a four-passenger design it hopes to bring through FAA certification. "We will be flying the new aircraft soon," Gysin says.
The six-generation prototype will likewise have wing-mounted lift-fans, but Gysin declines to say if it will also have a pusher propeller.
Wisk and competing developers of eVTOL aircraft ultimately see their designs becoming autonomous. While its rivals see a need for piloted variants initially Wisk's aircraft will be autonomous from the start, Gysin says.
"We will certificate the first passenger-carrying autonomous aircraft," adds Yutko
Due to technical requirements associated with full autonomy, Wisk is not saying when it hopes to achieve certification, freeing engineers to focus on safety-of-flight considerations.
Gysin describes Boeing's backing as critical. "We are able to tap their aerospace expertise," he says.
Wisk has some 500 people working on the eVTOL project, including about 100 Boeing engineers. Activities are being performed at sites in California, St Louis and Virginia, and elsewhere in the eastern USA.
Wisk has not said where it expects to produce its air taxi, but Gysin says: "It won't be in California – it's not the lowest-rent district in the world."
He anticipates Wisk could build up to 2,000 eVTOL aircraft within five years of service entry.
Unlike some competitors, Wisk intends to also operate its air taxis, at least at first, says Gysin. "That doesn't mean its going to be forever".
Story corrected on 19 July to note that Wisk says it actually intends to reveal its sixth-generation aircraft in October.