Boeing subsidiary Aurora Flight Sciences is advancing to the next stage of a US military experiment aimed at developing novel methods of aircraft flight control.
The Control of Revolutionary Aircraft with Novel Effectors (CRANE) programme is a project of the Pentagon's technology development arm, the Defense Advanced Research Projects Agency (DARPA).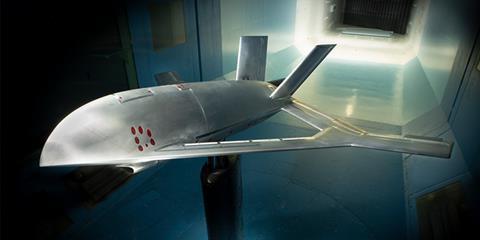 The agency said on 17 January it had selected Aurora to advance to "Phase 2" of CRANE.
"This follows successful completion of the project's Phase 1 preliminary design, which resulted in an innovative testbed aircraft that used active flow control (AFC) to generate control forces in a wind tunnel test," DARPA says.
The announcement follows the awarding to Aurora of a $42 million CRANE development contract in December.
AFC refers to aircraft designs that eliminate the use of traditional moving control surfaces to manoeuvre, such as rudders and flaps, and instead use actuators and effectors to modify surface airflow by directly adding energy or momentum.
DARPA believes the technique could produce significant improvements in flight performance, including increased range, drag reduction, improved turning radius and angle of attack flight, and higher fuel capacity.
"Over the past several decades, the [AFC] community has made significant advancements that enable the integration of active-flow-control technologies into advanced aircraft," says CRANE programme manager Richard Wlezien. "We are confident about completing the design and flight test of a demonstration aircraft with AFC as the primary design consideration."
Competitors in Phase 2 of CRANE "will focus on detailed design and development of flight software and controls, culminating in a critical design review of an X-plane demonstrator that can fly without traditional moving flight controls on the exterior of the wings and tail", DARPA notes.
Aurora, which specialises in developing aerospace innovations in propulsion and automated flight, first won an early stage exploratory contract for "Phase 0" of CRANE development in 2020.
The firm won a subsequent Phase 1 contract in 2021 covering development of system requirements, initial design and a preliminary airworthiness review.
"Given all that we have learned about AFC and its application to tactical aircraft in prior phases of CRANE, the next step is to prove out these learnings in flight," says Graham Drozeski, vice-president of government programmes at Aurora.
Under the Phase 2 contract with Aurora, for which DARPA did not release a dollar value, the government will have an option for a Phase 3 procurement deal, which would include the production of a 3,180kg (7,000lb) flight-capable demonstrator.
Aurora says its X-plane will be uncrewed and feature a 9m (30ft) wingspan. If optioned, the company will assemble the craft at facilities in Virginia, West Virginia and Mississippi.
"The vehicle would be used for AFC validation and demonstration at relevant scale and flight conditions, including flight speeds up to Mach 0.7," Aurora says.
Flight testing is targeted for 2025, the firm adds.
DARPA says the goals of Phase 3 will be to address two engineering challenges: incorporating AFC into a full-scale aircraft and developing reliable technology for controlled flight.
There is no set timeline for progressing between phases of the CRANE project. Multiple manufacturers have designs in earlier stages of the development pipeline, including Lockheed Martin and BAE Systems.