The AVIC AG600 amphibian has moved to a new stage in its testing campaign, operating flights over the sea.
Later in 2020, the aircraft is scheduled to conduct its first takeoff from the ocean surface, according to a China Daily report quoting the aircraft's manufacturer.
The report gave no location for the flights, but the aircraft is manufactured at the China Aviation Industry General Aircraft (CAIGA) factory at Zhuhai airport, where the biennial Airshow China event is held. The airport is a short distance from China's Pearl River Delta.
The AG600 has conducted tests in the calm waters of China's Zhanghe Reservoir. In 2018 Chinese state television showed a video of the first prototype of the four-engined aircraft, B-002A, conduct a sortie that involved a water takeoff and landing.
The AG600 is powered by locally-produced Dongan WJ-6 turboprops. While larger than the Shinmaywa US-2 amphibian, the AG600 lacks the boundary layer control system found on the Japanese aircraft. This device, located between the wings, boosts airflow over the wings, thus improving lift. This is especially useful when the aircraft needs to take off from water in high sea states.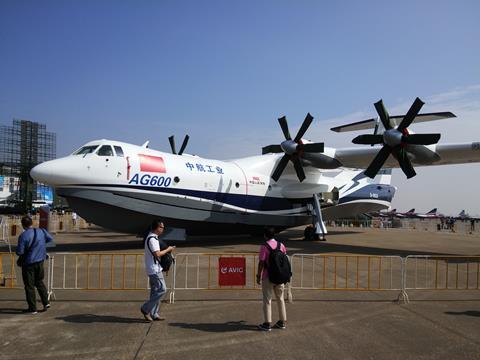 The AG600 will undertake a range of missions, and its target market is domestic parapublic organisations. Its main functions are search and rescue and transport, but it can also serve as a water bomber.
While ostensibly a parapublic aircraft, a US Defence Intelligence Agency report in January 2019 stated that the aircraft is also likely to serve as a military asset.