The AVIC Guizhou FTC-2000G has bagged its first export deal to an unnamed Southeast Asian country.
The order was revealed in a report by the state-run Global Times newspaper that was also posted on the website of the Chinese defence ministry.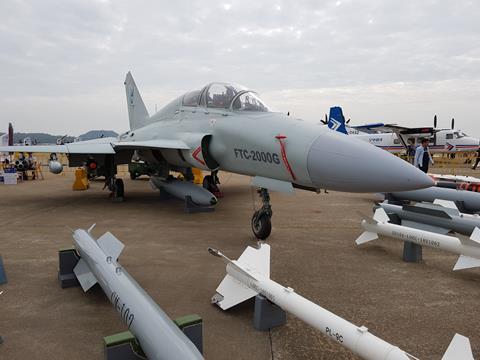 The report suggests the first delivery will take place in 2021, with all examples to be delivered within a two-year period.
No details were given about the deal's value or the number of aircraft involved. The story provided no details about the aircraft's planned weapons fit.
The Global Times, cited unnamed "aviation experts" as saying the order presages a "surge in international customers."
While the customer was not named, Beijing is known to have close defence relations with two Southeast Asian countries, Myanmar and Cambodia.
Cirium fleets data suggests that Myanmar has 74 fixed-wing aircraft of Chinese origin, of which 55 are combat aircraft. Chinese-built fighters in its arsenal include 21 Chengdu F-7s, six Guizhou FT-7s, 21 Hongdu A-5s, and seven Chendgu/Pakistan Aeronautical Complex JF-17s.
Cambodia has a far more modest air force comprised mainly of helicopters, with no fixed-wing combat aircraft.
The FTC-2000G is a based on the FTC-2000 advanced jet trainer. It made its public debut in the static park of Airshow China in Zhuhai in November 2018. It has seven hard points compared with five for the baseline FTC-2000, which is designated JL-9 in Chinese service. It is powered by a single Guizhou Liyang WP-13 engine equipped with an afterburner.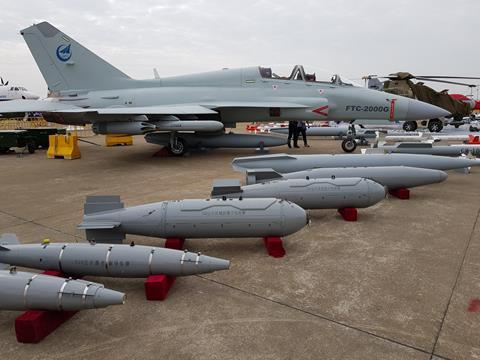 At the 2018 show, the FTC-2000G appeared amid a range of air-to-air and air-to-surface weapons, such as the SD-10 semi-active air-to-air missile (the export variant of the PL-12), the CM-102 anti-radiation missile, and various guided and non-guided bombs.
The FTC-2000, which made its public appearance at Zhuhai in 2016, appeared both in the static and flying display.