The US Air Force (USAF) fleet of strategic stealth bombers has returned to flight duty.
Global Strike Command, which oversees the USAF's small contingent of nuclear-capable Northrop Grumman B-2 Spirit bombers, said the iconic flying-wing jets will resume flying on 22 May, following a five-month grounding.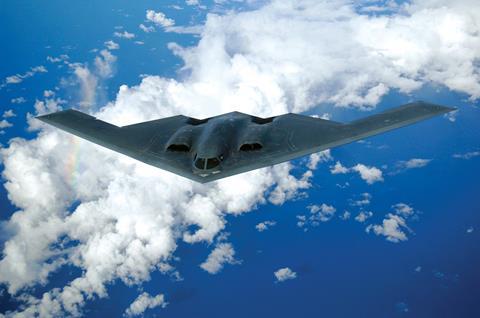 "We successfully accomplished all necessary actions to safely return to full flight operations," says General Thomas Bussiere, the head of Global Strike Command, on 18 May in a statement to the Air Force Times.
The USAF has not disclosed the nature of the issue that led it to ground the B-2 fleet last December. One of the service's 20 stealth bombers experienced "an in-flight malfunction during routine operations" on 10 December and was forced to make an emergency landing.
Although the aircraft involved in the incident was damaged, no personnel were injured, the USAF said at the time. The rest of the B-2 fleet had since been grounded as the service investigated the problem.
The advanced but ageing jets are the USA's only nuclear-capable heavy bomber equipped with the stealth technology to penetrate sophisticated enemy radars and air defences.
The USAF's other bomber assets cannot fill both roles. The supersonic Boeing B-1B is not approved for carrying nuclear missions, while the iconic Boeing B-52 is not stealthy.
The service's Lockheed Martin F-35A stealth jets are being certified to carry nuclear weapons, but the strike fighters have a much lower payload capacity than a heavy bomber.
Each B-2 is valued at around $2.1 billion. The service ultimately plans to replace the Spirit with the brand-new Northrop B-21 Raider, which the company unveiled last December.
That programme aims to deliver a stealth bomber aircraft that improves upon the B-2, including cost, reliability and ease of maintenance. The B-21 will be even stealthier than its predecessor, with a smaller radar cross section and improved thermal signature.
Northrop and the USAF expect the make first B-21 flight sometime before the end of 2023.
Full-rate production of the new bombers is scheduled to begin in 2026, with the planned fleet of at least 100 aircraft reaching initial operating capacity by 2029.