BAE Systems will continue its role of providing electronic-warfare support to the US Air Force (USAF) fleet of Lockheed Martin F-22 air superiority fighters.
The British aerospace manufacturer said on 26 September it landed a five-year contract from Lockheed to continue sustainment of the F-22's AN/ALR-94 onboard electronic-warfare suite.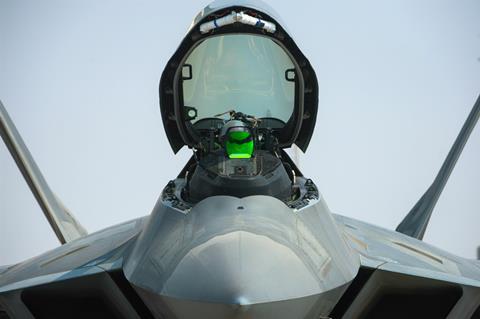 The self-protection system assists F-22 pilots in detecting and defeating surface and airborne threats through both offensive and defensive technologies, according to BAE.
The AN/ALR-94 combines "robust situational awareness, precision targeting support and robust threat countermeasures", the company notes.
Among the system's features are broadband radar warning and geo-location capabilities, targeting support, always-on multi-spectral radio frequency and infrared countermeasures.
BAE is the original manufacturer of the advanced electronic-warfare package and has served as the sustainment provider since the programme's inception. The company says it remains committed to the project, citing recent investments in a new F-22 sustainment facility in Merrimack, New Hampshire.
"We're investing in sustainment excellence to keep Raptors and other platforms ready to engage modern threats and outpace our adversaries," says Dan Harrington, director of F-22 programmes at BAE.
The value of the five-year sustainment contract was not disclosed. In 2021, Lockheed received a $10 billion contract from the USAF for F-22 sustainment and modernisation over a 10-year period.
The USAF operates 183 F-22s, according to service figures.