Beijing continues to make strides with its fighter fleet, as well as with key enabling capabilities such as airborne early warning and control (AEW&C) and air-to-air refuelling.
In its annual report to Congress about Chinese defence developments, the US Department of Defense highlighted China's progress across the full spectrum of capabilities, specifically emphasising Beijing's ambitions to greatly increase its nuclear capabilities.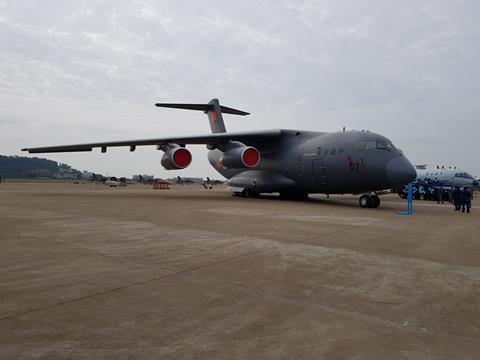 On other Chinese airpower capabilities, the report had no startling revelations compared with the last version, which was published in May 2019. Still, it does depict an increasingly modern and confident People's Liberation Army Air Force (PLAAF) and People's Liberation Army Navy (PLAN) aviation arm.
Together, the two forces have over 2,500 aircraft, excluding trainers and unmanned air vehicles, of which 2,000 are combat assets such as fighters, strategic bombers, tactical bombers, multi-mission and attack aircraft. It notes that Beijing has emphasised a requirement for the PLAAF to perform a strategic role and project airpower at long range, and also support joint operations.
"The PLAAF is rapidly catching up to Western air forces," says the report. "This trend is gradually eroding longstanding and significant US military technical advantages vis-a-vis the [People's Republic of China] in the air domain."
In regard to the Chengdu J-20 fighter, the Pentagon contends that the PLAAF has "operationally fielded limited numbers" of the type. This is a nuanced change from May 2019, when it reported that while the type had likely entered service, it was possibly with a test and training unit.
As for China's other stealth fighter, AVIC FC-31/J-31, it notes that "development continues… for export or as a future naval fighter for the PLAN's next class of aircraft carriers". In the last report, however, the Pentagon had suggested that production of the type could commence in 2019.
"The PLA's planned fielding of a fifth-generation fighter force will bolster its air-to-air capability, adding to the airpower of China's fourth-generation Russian-built [Sukhoi] Su-27/Su-30 and [Shenyang] J- 11A, and its indigenous J-10A/B/C, J-11B, and more advanced J-16 fighters," says the report.
"The J-20 and FC-31/J-31 feature high manoeuvrability, stealth characteristics, and an internal weapons bay, as well as advanced avionics and sensors providing enhanced situational awareness, advanced radar tracking and targeting capabilities, and integrated electronic warfare systems."
In the key AEW&C area, the Pentagon says Beijing is developing a variant of the Shaanxi KJ-500 AEW&C aircraft that is capable of being refuelled in flight. This, coupled with the development of a tanker variant of the Y-20 strategic transport and the H-6N bomber, which features an air-to-air refuelling probe, will "noticeably expand China's ability to conduct long-range offensive air operations".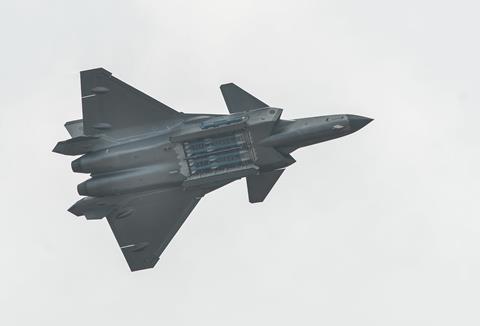 Moreover, the growing fleet of AEW&C aircraft, which also includes the KJ-2000 and KJ-200, will greatly support Beijing's increasingly powerful and complex integrated air defence systems.
"The PLAAF possesses one of the largest forces of advanced long-range SAM [surface-to-air missile] systems in the world, composed of Russian-sourced SA-20 (S-300) battalions and domestically produced CSA-9 (HQ-9) battalions," it says.
In addition, China is acquiring Russia's S-400 system and developing a new SAM system designated the CSA-21.
The report notes that a third aircraft carrier, the second such vessel to be built locally, will join the PLAN fleet in 2023, and become operational in 2024. This vessel will be larger than the PLAN's existing carriers, the CNS Liaoning and Shandong.
"China's next generation of carriers, including one that began construction in 2018, will have greater endurance and a catapult launch system capable of launching various types of special mission fixed-wing aircraft for missions such as early warning, electronic warfare, and anti-submarine warfare. These improvements would increase the striking power of a potential carrier battle group when deployed to areas beyond China's immediate periphery."
These will be complemented by a new class of helicopter dock amphibious assault ships (LHA). Beijing launched its first LHA in 2019. The type will be capable of operating helicopters for assault operations.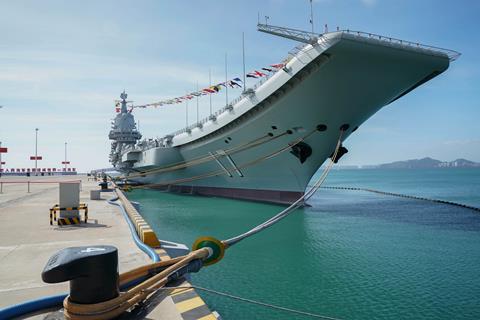 As with previous Pentagon reports about China, the 2020 version highlights Beijing's preoccupation with preparing for military contingencies against Taiwan, which it views as a breakaway province. Airpower would play a role in virtually all such initiatives, ranging from a limited air and sea blockade to a full scale invasion.
"The PLAAF has maintained a force posture that provides a variety of capabilities for a Taiwan contingency," says the report.
"It has acquired a large number of advanced aircraft capable of conducting operations against Taiwan without requiring refuelling, providing it with a significant capability to conduct air-superiority and ground-attack operations. A number of long-range air defence systems provide a strong layer of defence of China's mainland against counterattack. In addition, China's development of support aircraft provides the PLAAF with improved ISR [intelligence, surveillance and reconnaissance] capability to support PLA operations in a contingency."