Belgium is joining the USA in not accepting new deliveries of the latest Lockheed Martin F-35 stealth fighters, pending the certification of an improved flight computer and new software.
The defence ministry in Brussels says it will follow Washington's lead in not accepting F-35s assembled in the new Technical Refresh 3 (TR-3) configuration, which Lockheed is in the process of flight testing.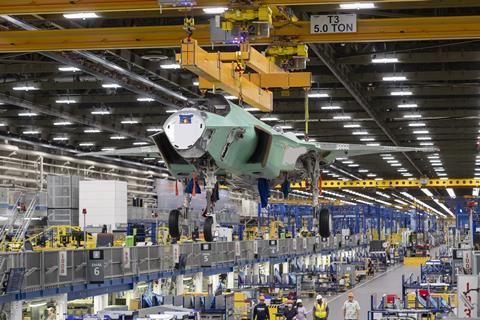 The military airframer is experiencing delays completing flight certification of the TR-3 package, which prompted Lockheed to lower its F-35 delivery targets for 2023, as customers pause accepting new fighters.
"The refusal of the US government means that the process of certification and qualification is still ongoing and that the US government does not want to accept (and therefore pay) for hardware as long as the software is not fully finished," the Belgian defence ministry said on 1 August. "This is a completely logical decision that also applies to Belgium."
The move by Brussels was first reported by Belgian outlet VRT News. The Pentagon made a similar announcement earlier this summer.
"F-35 aircraft coming off the production line with TR-3 hardware will not be accepted until relevant combat capability is validated in accordance with our users' expectations," the Pentagon's F-35 Joint Program Office (JPO) for acquisitions told FlightGlobal in June.
The military airframer is experiencing delays completing flight certification of the TR-3 package, which prompted Lockheed to lower its F-35 delivery targets for 2023.
TR-3 is a set of hardware and software improvements designed to dramatically increase the capability of the fifth-generation F-35 over the long-term. The upgrades include a more powerful flight computer, new operating software and an improved touchscreen cockpit display.
Those improvements will turn each F-35 into a powerful airborne data centre capable of collecting and transmitting battlefield information at 5G speeds.
"TR-3 is the F-35's critical computer processing electronics upgrade that will continue to provide all our pilots with the capability they need to be successful against any adversary," US Air Force (USAF) Lieutenant General Mike Schmidt said in January, when the first TR-3 test flight launched.
The computer upgrade will serve as the foundation for a subsequent, even more substantial package of capability improvements to be rolled out in the forthcoming Block 4 design update to the F-35.
"The three big components of block four are better sensors, more and better weapons and increased ability to communicate and network," JR McDonald, vice-president of integrated fighter group business at Lockheed, said in June at the Paris air show.
However, those improvements are not possible without the additional computational power from TR-3. Brussels still wants the new capability, which the defence ministry says will "make the aircraft significantly better able to withstand today's modern ground and air threat, both offensively and defensively".
"This not only gives access to new Block 4 capacities, but also avoids a later costly retrofit of many months," Brussels added in a statement to VRT News.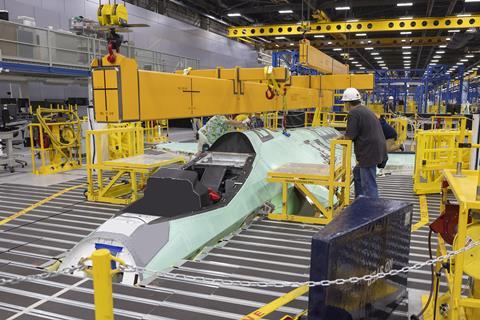 Belgium currently has 34 F-35As on order with Lockheed. The company on 1 August said the first of Belgium's jets had entered the final assembly stage of production in Fort Worth, Texas.
"In final assembly, the jet's canopy will be fitted, electronic systems will be tested, and the engine will be installed," Lockheed says. "From there, it will enter the final finishes facility to receive its stealth coating."
The Belgian defence ministry had expected to take delivery of its first F-35s before the end of 2023. Those initial aircraft are to be stationed at the USAF's Luke AFB in Arizona, where they will be used to train Belgian aviators.
Prior to the recent hold on deliveries, both Brussels and Lockheed expected the first F-35 to arrive on Belgian soil in 2025. However, delays related to TR-3 now threaten that timeline.
The Pentagon does not expect the flight certification process to be complete until December at the earliest, but potentially as late as April 2024. Lockheed chief executive Jim Taiclet confirmed in July the company is targeting December for the first delivery of a TR-3 F-35, but acknowledged the milestone could "move a little bit into early 2024".
Exactly when Lockheed completes the certification process will determine when Belgian pilots can begin training, and by extension when Brussels can stand up its F-35 fleet.
"If the delay is limited to a few months, this will have little or no impact on the final gradual operational capability," the defence ministry told VRT News.
Belgium's F-35 fleet was expected to reach initial operational capability in 2027 and full operational capability by 2030.