A bipartisan group of US senators is pushing the Biden administration to expand its military aid to Ukraine by providing Kyiv with Lockheed Martin F-16 fighters.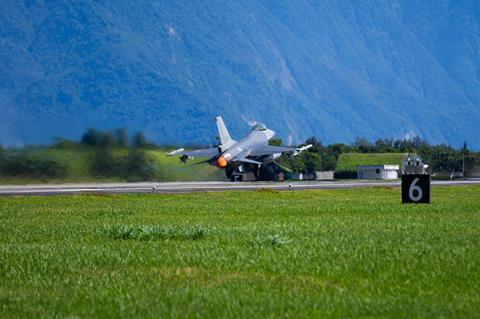 A letter sent by the lawmakers to US secretary of defense Lloyd Austin on 14 March describes the year-old conflict between Russia and Ukraine as "at a critical juncture". The group says the USA must "ensure Ukraine is able to defeat the Russians on the battlefield".
"We believe the US needs to take a hard look at providing F-16 aircraft to Ukraine," the eight senators say. "This would be a significant capability that could prove to be a game changer on the battlefield."
The letter was also sent to General Christopher Cavoli, head of the Pentagon's European Command and NATO Supreme Allied Commander in Europe.
The group of lawmakers includes prominent members of both the Republican and Democratic parties, including former US Army Sikorsky UH-60 pilot Tammy Duckworth of Illinois, former NASA astronaut Mark Kelly of Arizona and former vice-presidential candidate Tim Kaine of Virginia.
The Biden administration has been reluctant to provide Ukraine with some of the USA's most-advanced capabilities, such as fourth-generation fighters like the single-engined F-16. Senior defence officials in Washington have expressed concern about Ukraine's ability to maintain the complex aircraft and protect them from capable Russian air defences.
The US president and his top advisors have said they believe other battlefield capabilities such as air defences and long-range artillery should be a higher priority for Kyiv.
However, despite the lack of commitment on providing fighters, Ukrainian aviators have begun the most basic steps toward certification on Western types. The senators' letter notes that two Ukrainian air force pilots recently visited an air base in Tucson, Arizona for a skills assessment, including time on an F-16 simulator.
The letter asks the Pentagon to address several outstanding questions on the issue of providing combat jets to Ukraine, including from where the aircraft would be sourced, if Kyiv is capable of sustaining such aircraft and what training would be required to qualify Ukrainian air force pilots.
Russian President Vladimir Putin "shows no sign of… withdrawing from Ukraine", the group warns. "If anything, we expect additional Russian offensives this spring."
"In order to restore peace and security in Europe, the United States must continue working with our allies to continuously assess how we can best support Ukraine's efforts and ensure Putin loses this war," the letter says.