Aerospace giant Boeing has begun installing Block III upgrades on the US Navy's existing fleet of F/A-18 Super Hornet strike fighters, which are getting increased service life and more advanced avionics.
Boeing on 13 July tweeted video of what the company says is the first Block II Super Hornet arriving at its complex in St Louis, Missouri – the headquarters of Boeing's defence unit and where Boeing assembles new F/A-18s.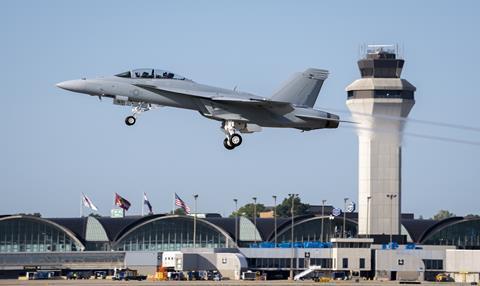 "The jet will depart with a 4,000-flight-hour increase, a large-area touch-screen display and upgraded capabilities," Boeing says.
The company's other St Louis-area operations include production of F-15EX fighters and development of two jets: the MQ-25 Stingray autonomous carrier-launched refuelling jet for the USN and the T-7 Red Hawk jet trainer for the US Air Force (USAF). In May, Boeing also revealed it is testing, near St Louis, the MQ-28 Ghost Bat autonomous fighter, which it is developing jointly with the Royal Australian Air Force.
Boeing delivered the first new Block III Super Hornets in 2021, under a contract for 78 aircraft. In addition to increasing the airframe life to 10,000h from 6,000h, the updated F/A-18 features a more-advanced touch-screen cockpit display, reduced radar cross section and a more-powerful computer processor.
At the time of the first Block III delivery, Boeing said it planned to produce new Super Hornets into the 2030s. However, the company in February walked that back, saying it now plans to cease production of F/A-18s by 2025, following delivery of the last USN aircraft.
Boeing had said at the time that additional overseas orders could extend production into 2027. But that now appears unlikely.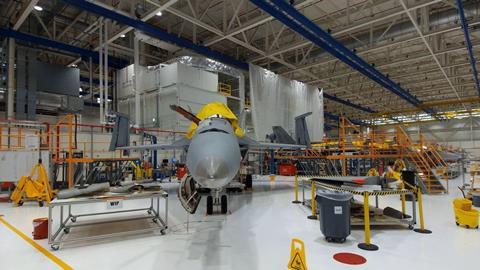 The 2025 end of production for the F/A-18 was recently confirmed at the Royal International Air Tattoo in the UK on 14 July, following India's selection of the Dassault Rafale M fighter over the Block III Super Hornet in a competitive bid.
"We are likely to cease production around the 2025 timeframe," says Bernd Peters, air dominance vice-president of business development for Boeing Defense, Space & Security.
New Delhi plans to acquire 26 Rafale M at a still-to-be-determined price.
The focus at Boeing now shifts to the latest F-15EX version of that venerable fourth-generation air superiority fighter. In addition to orders from the USAF, Boeing sees interest in the platform from Indonesia and Israel.
Multiple sixth-generation fighter development programmes are also up for grabs, including the USAF's Next-Generation Air Dominance effort and the USN's F/A-XX.
Boeing is also an early leader in developing autonomous jet aircraft, which the USN eventually wants to comprise the majority of its carrier air wings.