BAE Systems has received a contract to produce additional Eagle Passive Active Warning Survivability Systems (EPAWSS) for US Air Force (USAF) Boeing F-15E and F-15EX Eagles.
The company said on 7 September that the deal for low-rate initial production of lot 2 brings the total contract value for EPAWSS production to $351 million.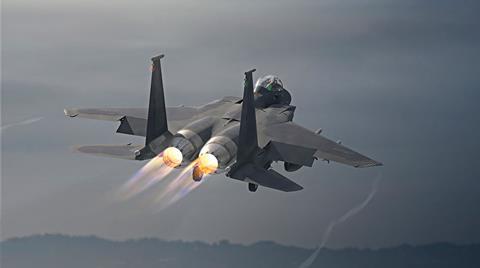 "These aircraft bring speed, manoeuvrability and payload to the fight, and now with EPAWSS they can better detect and protect against modern threats," says Bridget McDermott, EPAWSS programme director at BAE.
The USAF is equipping both its legacy F-15Es and new F-15EX jets with the system
EPAWSS gives the fighters improved electromagnetic warfare technology, "state-of-the-art situational awareness and self-defence capabilities", BAE says.
The F-15EX programme is an effort to develop a modernised version of the legacy F-15C. New F-15EX fighters are to have improved survivability and lethality, and are intended to work alongside fifth-generation fighters like Lockheed Martin's F-35.
Speaking with FlightGlobal in June, an official with Boeing Defense, Space & Security (BDS) described the platform as a "4.5-generation aircraft".
The USAF plans to purchase some 140 F-15EXs over the coming years, according to the 2022 FlightGlobal World Air Forces guide. However, with the airframe's nearly $88 million price exceeding the cost of the F-35A variant used by the USAF, some lawmakers in Washington have questioned whether the fighters make budgetary and tactical sense.
Senator Tammy Duckworth of Illinois, a veteran Sikorksy UH-60 Black Hawk pilot, said in 2019 that the service should not sacrifice production of the fifth-generation F-35 to add to the F-15 fleet.
Advocates note that while the single-engined F-35 is stealthier and carries a powerful array on internal sensors, the twin engined F-15EX can fly faster, farther and carry a substantially larger payload of weapons.
BAE's McDermott positions the EPAWSS contract as promising for the F-15EX programme.
"EPAWSS production is growing as the Department of Defense signals the long-term importance of F-15s to the strategic fleet," she says.