Boeing has begun flight testing an augmented reality helmet system that the airframer hopes to incorporate into its latest jet trainer, the T-7A Red Hawk.
The system, known as Advanced Tactical Augmented Reality System (ATARS), is produced by aerospace start-up Red 6. The technology concept aims to visually project imaginary aggressor aircraft onto a pilot's helmet visor, allowing them to train on air combat manoeuvres.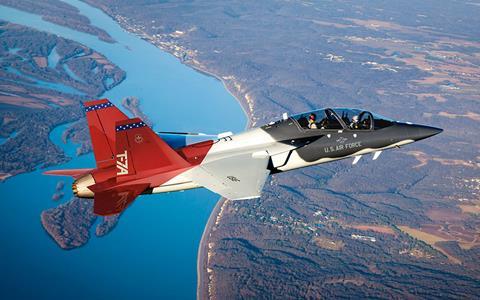 At the 2023 Air Space Cyber (ASC) conference near Washington, DC, both Boeing and Red 6 revealed they have integrated ATARS into a Douglas TA-4J Skyhawk and begun fight testing.
"The successful series of ground tests and four flight sorties illustrate our collaborative ability to rapidly integrate, deliver and test new technology," says Donn Yates, head of business development for Boeing's air force fighters and trainers unit.
Yates, a former Boeing F-15 pilot with the US Air Force (USAF), thinks the ATARS technology has the potential to "change fighter pilot training for an entire generation".
Boeing first announced the partnership with Red 6 at the Air Space Cyber conference in 2022. At the 2023 Paris air show in June, Yates made the case for augmented reality's potential value to fighter training.
"I can take something that's out there on my radar scope, and as it translates all the way to inside of 15 miles, it now comes off my radar scope, and I see it visually," he said, describing how Boeing plans to integrate ATARS with the T-7's cockpit and onboard sensor systems.
Red 6 was founded by Lockheed Martin F-22 Raptor pilot Dan Robinson, who flew for both the USAF and UK Royal Air Force (RAF).
The company says its technology will enable pilots to interact with virtual aircraft, targets and threats while "experiencing the cognitive loads of physically flying the airplane".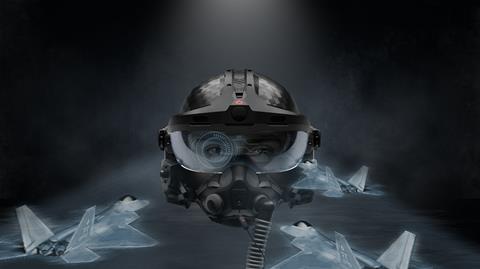 "We remain focused on delivering a fully synthetic, outdoor training environment," says Red 6 president Thomas Bergeson. "The combination of T-7 and ATARS will usher in a new paradigm for training."
In addition to the private deal with Boeing, Red 6 in 2021 secured a $70 million contract with the USAF to support technology development and commercialisation. Under that deal, Red 6 is exploring integration with the service's current Northrop T-38 trainer.
The UK government has also invested in the company, with London's National Security Strategic Investment Fund in July participating in a $70 million capital raise by Red 6.
The investment will support integration of the company's augmented reality technology into the RAF fleet of BAE Systems Hawk T2 advanced jet trainers.
Red 6 in March partnered with Lockheed and Korea Aerospace Industries on a deal to incorporate ATARS into the T-50 trainer. Lockheed is also an investor in the start-up, through its internal Lockheed Martin Ventures fund, which seeks to make strategic investments in emerging technologies that support the company's vast defence and manufacturing portfolio.
Boeing says its recent TA-4J flights with ATARS are a "precursor" to subsequent integration of the technology into the T-7. The airframer did not provide a timeline for the project.
On 12 September, Boeing revealed it was poised to deliver the first Red Hawk to the USAF. Company officials projected the flight testing and certification for the new type will take approximately 12 months.