Boeing says it will complete deliveries of the company's P-8A Poseidon maritime patrol aircraft to New Zealand, Germany and South Korea over the next two years.
The aerospace manufacturing giant said on 7 July that the Royal New Zealand Air Force (RNZAF) will receive its P-8s in 2022, while South Korea's will arrive in 2023. Aircraft destined for Germany will be ready in 2024.
New Zealand committed to purchasing four P-8s to replace the RNZAF's ageing fleet of six Lockheed Martin P-3 Orion patrol aircraft. Across the Tasman Sea, neighbouring Australia already operates 12 Poseidons.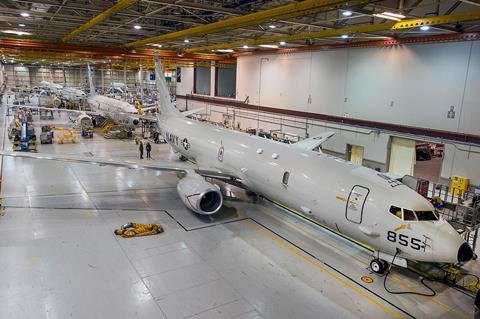 Germany plans to buy five P-8s, while South Korea will acquire six. Both nations will use the Poseidon to phase out fleets of the older P-3 Orion.
P-8 maker Boeing says that it recently delivered the 150th finished Poseidon. The US Navy, UK Royal Air Force, Norway and India also operate the twin-engined jet.
Used for anti-submarine warfare, maritime search and rescue, as well as intelligence, surveillance and reconnaissance, the P-8 is based on a Boeing 737NG airframe, with 86% commonality according to Boeing P-8 programme senior manager Perry Yaw.
The P-8 production line currently has a backlog stretching until 2025, Yaw says, with a programme total of 183 aircraft ordered.
During a recent tour of Boeing's delivery centre outside Seattle, Yaw told FlightGlobal that the company is optimistic about the prospect of expanding foreign sales of the P-8, with additional interest generated by Russia's invasion of Ukraine.
"My phone is ringing a little bit more these days," he says.
Yaw adds that Canada is Boeing's next major focus for overseas sales. In February, the company officially responded to a bid request from the Canadian armed forces for a long-range maritime patrol aircraft.
Dubbed the Canadian Multi-Mission Aircraft (CMMA), the programme aims to replace the Royal Canadian Air Force (RCAF) fleet of Lockheed CP-140 Aurora turboprops. The CP-140 is based on a P-3 airframe.
The RCAF operates 15 Auroras, according to the FlightGlobal 2022 World Air Forces directory.
Boeing says it will team up with industrial partners in Canada for the bid.
Yaw acknowledges that there have been multiple responses to the CMMA request.
But there is one space left on the wall above the P-8 production line in Renton, Washington that displays the national flag of each country that has purchased a Poseidon. Yaw says he is saving it for Canada.
However, if another customer comes along before then, he says Boeing will make room.
"I'm just going to make smaller flags and keep selling these aircraft," Yaw says.