American airframer Boeing's defence unit continues to battle profitability challenges, struggling under multiple loss-producing new aircraft development programmes and persistent supply chain challenges.
Executives at the strategically important aerospace giant disclosed a $527 million loss for Boeing Defense, Space & Security (BDS) for the period covering April through June, during a 26 July earnings call with investors.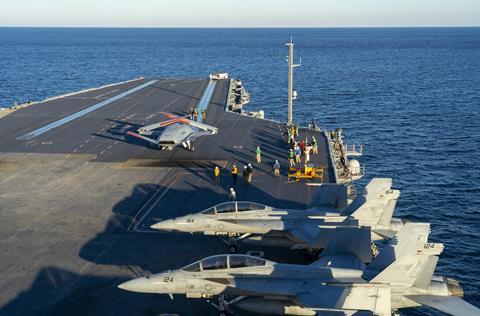 Chief executive David Calhoun describes the second three months of 2023 as a "solid quarter" for Boeing, despite financial challenges.
"We are wrestling our way through the BDS contract exposures that we have," Calhoun says. "We're confident we will see them through."
The leadership team at Boeing, including Calhoun, chief financial officer Brian West and BDS chief executive Ted Colbert have for the past year said they are "de-risking" the BDS portfolio.
New aircraft programmes such as the T-7A jet trainer, KC-46 tanker and MQ-25 autonomous fighter refueller have been plagued with engineering challenges that have delayed their transition from the low-margin design and initial production phases into the more-lucrative stage of full-rate production.
In a June interview with FlightGlobal ahead of the Paris air show, Colbert said his priority for BDS is stability.
"Our overarching priorities… are really driving stability, productivity and predictability into everything that we do," Colbert said, acknowledging that it has been a "tough couple of years" for BDS.
Colbert took the helm of the defence unit after overseeing the Boeing Global Services business, which was the company's only profitable segment in the second quarter.
While BDS led Boeing to an overall loss of $149 million, the company's commercial aircraft segment also saw a negative quarter – despite growth in new orders.
Strong demand for both military and commercial aircraft is actually exacerbating the impact of lingering constraints and price inflation in the supply chain, Calhoun says. He does not expect that reality to change in the short term. "Relative to the strong demand, we will remain in a supply constrained world for the foreseeable future."
Despite the challenges, the CEO remains confident in Boeing's defence business, saying: "Demand is strong, and we will continue to improve operational performance to more-normalised levels."
That does not mean the fortunes of BDS will immediately reverse course.
"We're not anticipating much in terms of BDS profitability," says CFO West, regarding expected performance in the third quarter.
West adds that problems at Boeing's defence production lines are the result of significant disruptions during the Covid-19 pandemic – which saw multiple years of interruptions on Boeing assembly lines and those of suppliers.
"They are complicated situations with complicated products and factories that almost went dark during the pandemic," West says. "We've had to bring them back to life."
The bright spot for BDS, according to the CFO, is that 60% of the segment's portfolio remains "very stable", with the loss-generating fixed-price development contracts representing only 15% of the business.
"There's a lot of very nice products in there, and we have to keep them stable," West says of existing aircraft programmes, including the AH-64 attack and CH-47 heavy-lift helicopters, P-8 maritime patrol jet and modernised B-52 bomber.
However, some BDS mainstays will be exiting production in the coming years. At the Paris air show in June, Boeing confirmed the F/A-18 Super Hornet assembly line will be shuttered in 2025.
Production is also winding down on the V-22 Osprey tiltrotor, which Boeing produces with Bell.
Still, Boeing executives remain optimistic about the long-term revenue potential for the company's troubled development programmes. The US Air Force (USAF) last year cleared the KC-46 for full global operations, and service leaders have raised the prospect of adding a further 75 aircraft to their existing plan for 179 jets.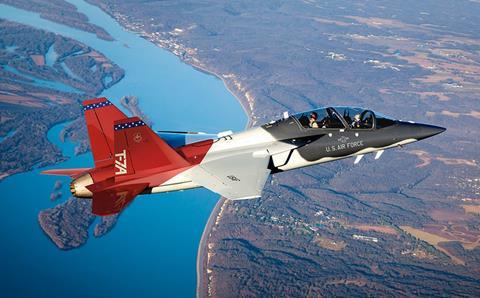 Deliveries of tankers to the USAF resumed in the second quarter after a quality issue was discovered on the derivative 767 commercial airframe production line.
The US Navy's (USN) MQ-25 autonomous, carrier-capable refuelling jet absorbed charges in the second quarter due to "schedule pressure", according to Calhoun.
"But we've had some recent successes that give us confidence that we're heading in the right direction," he says of the pilotless aircraft. The CEO reveals that construction is 25% complete on the first flightworthy MQ-25, with a static test version already complete.
The autonomous jet technology is set to become a massive growth area for the defence industry, with both the USAF and USN planning for substantial use of autonomous aircraft in the coming decades.
Likewise, Boeing says the T-7 programme will be a strong source of revenue once the single-engined jet trainer moves into full production.
"We're hitting some key milestones on the programme," Calhoun notes, referencing the recent first flight of the T-7 by USAF test pilots. "We're heading toward the start of a flight-test [programme] in earnest."
As to when performance may improve at BDS, West is firmly targeting 2024.
"Our defence margins have to get better next year – period, full stop," he says. "I won't guess in terms of what level, but they [have] to get better as we go in the trajectory to that 2025-2026 timeframe."
Potential new sources of revenue for BDS in that period include the USAF's Next Generation Air Dominance fighter programme and the Next Generation Air Refuelling System tanker development initiative.
Boeing is also hoping to secure additional sales of the latest F-15EX variant of the venerable fourth-generation fighter. In addition to confirmed orders from the USAF, Israel and Indonesia have expressed interest.