Boeing has begun delivering new wing sets to the US Air Force's (USAF's) fleet of A-10 Thunderbolt II ground-attack jets.
More commonly known as the Warthog, the A-10 was developed for the USAF by Fairchild Republic in 1976. Boeing has been producing new wing sets to keep the ageing A-10 fleet flying since 2011 under multiple USAF contracts.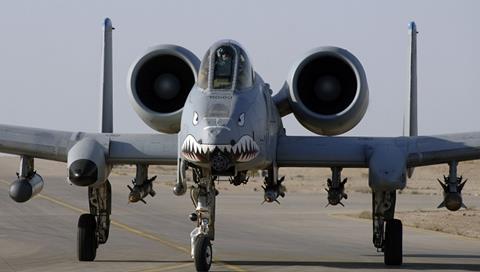 "The A-10 serves a critical role for the air force and Boeing is proud to extend our legacy of supporting the Thunderbolt and its mission," Dan Gillian, vice-president of US government services for Boeing, said on 25 May. "In partnership with the air force and our established supply base, we have started full-rate production and are actively supporting the customer's installation schedule."
The current contract, worth up to $1 billion, was awarded to Boeing in 2019. It originally covered 27 replacement wing sets, with the option for the USAF to order up to 112 in total over an 11-year period. Work is being done at Hill AFB in Ogden, Utah.
Boeing says it is currently working to provide the USAF with 50 wing sets. Each set consists of an outer wing assembly, centre wing assembly, control surfaces and fuselage integration kits. The upgraded wings are more durable, efficient and easier to maintain, extending A-10 flying life to 10,000h, the USAF says.
From 2011 to 2019, 173 A-10s received new wings, it adds. There are 283 of the turbofan-powered attack aircraft in the service's inventory.
Designed to kill tanks in close air support, the A-10 was built around a titanium "bathtub" cockpit to protect the pilot, and General Dynamics' 30mm GAU-8A Avenger cannon. It uses two GE Aviation TF34-100 engines mounted prominently above the tail section of the aircraft, and can carry up to 7,200kg (16,000lb) of mixed ordnance, according to Boeing.
A-10 production ended in 1984, but the Enhanced Wing Assembly replacement programme was designed to prolong the lifespan of the aircraft into the late 2030s. Wings from that programme are supposed to last for 10,000h of flight before needing a depot inspection.
Thanks to Congressional support, the aircraft has survived repeated retirement attempts by the USAF.
Recent USAF tests determined that the A-10's main cannon is still effective against the armour of modern main battle tanks, some 50 years after the aircraft was designed.