Recent weapons tests have demonstrated the ability of Boeing's F-15EX Eagle II to carry 12 underwing missiles, proving the full air-to-air capability of the updated fighter.
That is according to the US Air Force (USAF), which says pilots with its Test Wing launched air-to-air missiles from two of the F-15EX's underwing weapons stations that had not previously been evaluated for live fire use.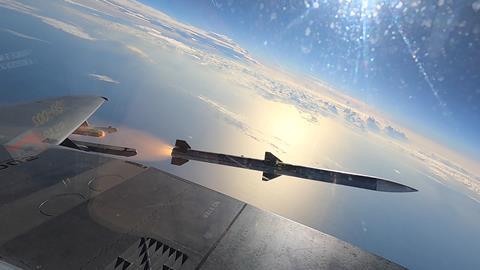 "The successful employment of these weapons is a major step in demonstrating the Eagle II aircraft's missile capacity of 12 air-to-air missiles," the Air Force Life Cycle Management Center said on 4 January.
The test on 29 November 2022 over the Gulf of Mexico involved two F-15EXs firing Raytheon Technologies AIM-120 and AIM-9X Sidewinder missiles from two weapons mounting points, designated Station 1 and Station 9. The test mission was intended to validate the Eagle II's expanded weapons capacity, according to the USAF.
The F-15EX boasts full capacity of 12 air-to-air missiles, four more than legacy F-15 variants. The additional missile stations are located toward the EX's wing tips, the USAF says.
The service describes the recent tests as successful, saying both aircraft released missiles on separate passes against a target drone before returning to Eglin AFB, Florida.
"Having been a part of the Eglin F-15EX team from day one, it's exciting to see the progress made and new milestones achieved as we work to field the most combat-capable F-15EX," says Major Brett Hughes, the test pilot who fired an AIM-120 from an F-15EX's Station 1.
The milestone comes less than one year after the F-15EX notched its first live missile launch, in January 2022.
The USAF says the latest tests will allow operational fighter squadrons to begin taking advantage of the F-15EX's expanded payload as soon as they receive the new jets.
But just how many F-15EX aircraft ultimately make it to squadrons remains a source of contention.
The jet has attracted scrutiny in Congress for its lack of stealth technology and high price tag. The F-15EX is more expensive than a stealthy Lockheed Martin F-35A, which some lawmakers have argued represents a bad investment in a legacy platform.
Manufacturer Boeing counters that modernised sensors, combined with a substantially higher weapons payload, make F-15EXs a strong compliment to the fifth-generation F-35.
Congress moved to protect legacy F-15s in recent legislation covering US military activities for 2023, directing that any retirements be offset by new F-15EX, or some equivalent platform.
However, budgetary pressure already appears to be chipping away at the programme.
The USAF had originally planned to acquire some 144 examples. The 2023 presidential budget request for defence included funds for only 80 of the type.