Canadian airframer Bombardier has begun modifying the first Global 6000 business jet in support of a German air force contract with Lufthansa Technik.
Montreal-headquartered Bombardier said on 28 November it has delivered the first Global 6000 to the company's main defence hub in Wichita, Kansas.
Bombardier Defence will ultimately modify three airframes for delivery to Lufthansa's maintenance, repair and overhaul (MRO) division, Lufthansa Technik, in support of a contract with the German air force.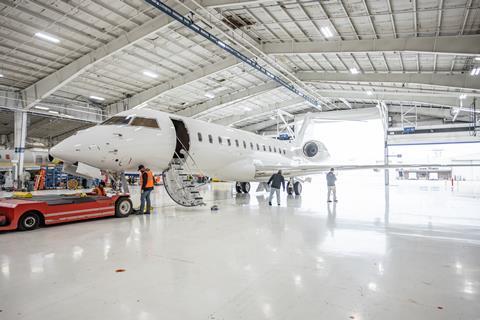 "This most recent milestone is a testament to the quality of Bombardier jets for both VIP transport and special mission applications," says Steve Patrick, vice-president of Bombardier Defense.
German sensor manufacturer Hensoldt is leading the programme, known as Pegasus, to deliver a fleet of signals intelligence gathering aircraft. Bombardier says the arrival of the first Global 6000 in Wichita marks the transition to the aircraft modification phase, following engineering work to design "mission-specific solutions".
"Bombardier Defense's full suite of mission-specific design, manufacturing, and certification capabilities, combined with Lufthansa Technik's expertise will ensure Hensoldt receives a reliable, high-performing platform, perfectly tailored to their mission requirements and payload," says Patrick.
Bombardier Defense will oversee testing and required certification of the modified aircraft.
Under the 2021 deal with Berlin, Bombardier will provide the aircraft as well as perform engineering and structural modifications. Lufthansa Technik will then perform systems integration on behalf of Hensoldt.
"The start of the structural modification phase indeed marks a major milestone, as it is an important prerequisite for the work packages of our special mission aircraft experts in Hamburg," says Michael von Puttkamer, vice-president of special aircraft services at Lufthansa Technik.
Pegasus, officially known as the Persistent German Airborne Surveillance System, is scheduled to first be deployed in 2026, with deliveries concluding in 2028. The modified Global 6000s will be used for collecting signals intelligence (SIGINT), military jargon for the interception of radio and electronic communications.
"With the immense progress made in the design work over the last 12 months, we are proud to see the Pegasus project entering the next stage," says Jurgen Halder, vice-president for air SIGINT at Hensoldt. "Together with our partners Bombardier Defense and Lufthansa Technik, we are determined to maintain the swift pace established to answer the pressing need of our customer for strategic surveillance capabilities."
Germany's previous airborne SIGINT gathering capability, which employed Dassault-Breguet Altantics, was retired in 2010. Berlin had plans to replace these with Northrop Grumman EuroHawk unmanned air vehicles developed in conjunction with the then-EADS, but abandoned the acquisition in 2013 after significant investment and a prototype aircraft being produced and flown.
The arrival of the first Global 6000 at Bombardier's Wichita facility marks the start of what Bombardier calls the "first major European customer work package" since the company named the Kansas plant as its main defence hub earlier in 2022.
Wichita is also the headquarters of Bombardier's US subsidiary.