Canadian airframer Bombardier has delivered a sixth Global 6000 jet to Saab, under the Swedish aircraft manufacturer's GlobalEye programme.
Saab describes GlobalEye as a multi-domain airborne early warning and control (AEW&C) solution that boasts a mix of modern active and passive sensors and the ability to provide long-range detection and identification of airborne, land-based and maritime objects.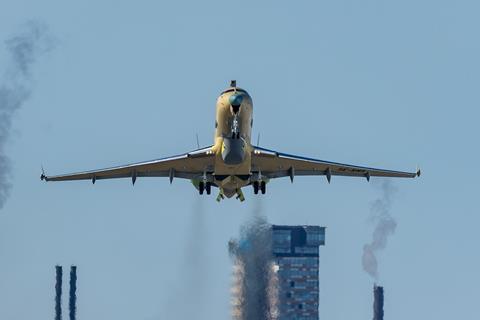 Bombardier on 19 July revealed that the latest Global 6000 earmarked for the GlobalEye programme is destined for service with the Swedish air force.
"Saab's GlobalEye programme integrates their renowned radar, command, control and communication systems into a multi-domain airborne surveillance solution using Bombardier's class-leading Global 6000 aircraft," the Montreal-based manufacturer says. "The highly efficient and agile Global family of aircraft is valued for its ultimate combination of speed, range and endurance – making it the platform of choice for government defence needs worldwide."
Saab's GlobalEye is already in service with the United Arab Emirates (UAE), which currently boasts three operational examples of the type. Abu Dhabi has two more of the jets on order, with Saab conducting the first test flight of the UAE's fourth aircraft in April.
Sweden has placed an initial order for two GlobalEyes, with the potential to double that number.
The Global 6000 is part of Bombardier's Global line of business jets, which launched with the Global Express, which made its first flight in 1996. The Global 7500 is the latest iteration of the long-range, large cabin series of jets.
"The Global aircraft family represents the right-sized solution for multi-mission, surveillance and VIP transport," says Jean-Christopher Gallagher, executive vice-president of Bombardier Defense. "Time and time again, it has met customers' expectations for their most demanding mission needs."
Bombardier Defense lists the Global 6000 as a multi-role aircraft ideally suited for medical evacuation, search and rescue, VIP transport, maritime surveillance and intelligence gathering, among other missions.
The company is also pitching the Global 6500 to be the Royal Canadian Air Force's (RCAF's) next maritime patrol and anti-submarine warfare (ASW) aircraft.
In May, Bombardier announced it is teaming with General Dynamics to prepare a proposal for the RCAF's Canadian Multi-Mission Aircraft (CMMA), which Ottawa intends to replace the long-serving Lockheed Martin CP-140 Aurora turboprop – the Canadian designation for the Lockheed P-3 Orion ASW platform.
American manufacturer Boeing was poised to secure an uncontested win in that contract, with its P-8 Poseidon patrol jet – a derivative of the Boeing 737-800 commercial airliner.
Prior to the Bombardier announcement, Ottawa had said the Boeing's P-8 submission represented the "only currently available aircraft that meets all of the CMMA operational requirements" for its 16-aircraft requirement.
Although Canada submitted an official letter of request to make a P-8 purchase through the USA's Foreign Military Sales process, that letter is non-binding. Bombardier is pushing for the government to open a competitive selection process.
Similar to its strategy for the GlobalEye programme, Bombardier in its CMMA proposal plans to provide the derivative aircraft, while its partner will oversee mission-system integration.