Military transport aircraft from around the world are arriving in Israel to evacuate citizens from the Middle Eastern country, which declared a state of war on 7 October after a surprise assault from Gaza-based militant group Hamas.
The governments of both Brazil and Poland confirmed on 8 October they had dispatched air force transports to retrieve citizens trapped in Israel, which has been under bombardment from thousands of Hamas rockets over the past three days, in addition to a ground incursion through the country's southern border with Gaza.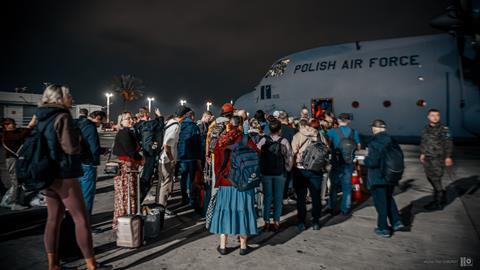 "We are sending air force transport planes to carry out the evacuation of Poles currently staying in Israel," Polish President Andrzej Duda said on 8 October. "Soldiers from our special forces will ensure loading protection and safety on board. We are working so that all our compatriots can return home safely."
Poland's defence minister confirmed the action on 9 October, saying Warsaw has launched an "evacuation bridge" that will transport Polish citizens from Israel to the Greek island of Crete before onward passage to Poland.
As of 13:00 GMT on 9 October, the Polish defence ministry confirmed that three such flights had already reached Warsaw, with a fourth en-route. The ministry shared photos of civilians boarding a Polish air force Lockheed Martin C-130 parked at Tel Aviv's Ben Gurion airport.
Warsaw has five C-130s in its inventory, according to Cirium data.
The Brazilian air force (FAB) is also engaged in a similar non-combatant evacuation effort, marshalling even more aircraft to support its operation.
"The Brazilian air force, in coordination with the ministries of defence and foreign affairs, was called to repatriate Brazilians who are in Israel," the service said on 8 October.
Six military aircraft have launched from the South American country, destined initially for Italy. The FAB says both of its Airbus A330 transports are participating in the evacuation operation.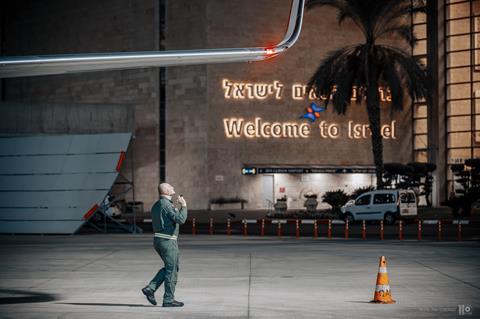 Two of Brazil's indigenously produced Embraer KC-390 Millennium transports are also en-route, along with two Embraer 190 (VC-2) passenger jets. All six aircraft will be staged in Rome while Brasilia coordinates its evacuation operation.
The FAB shared video of the first A330 launching from the city of Natal just before midnight GMT on 8 October.
The deployments were prompted by significant disruptions to civilian air service in and out of Israel. Video has emerged of disembarking passengers at Ben Gurion taking cover on the tarmac as air raid sirens blare.
While the Israel Airports Authority says both Ben Gurion and Ramon airport in Eilat remain open, numerous foreign carriers have been cancelling flights, including Lufthansa, Air France and Wizz Air.
Swiss International Air Lines on 9 October said it will operate a special round-trip flight from Zurich to Tel Aviv on 10 October, in cooperation with the Swiss department of foreign affairs, using a 219-seat Airbus A321. The flight is only bookable via a special phone hotline whose details have been communicated to Swiss nationals or residents currently in Israel.
The airline says it has cancelled all other scheduled service to Tel Aviv through 14 October.
Major US carriers including United Airlines and American Airlines have also suspended service to and from Tel Aviv. The BBC reports Delta Air Lines has enacted similar measures.
The USA has also deployed substantial military aviation assets to the region since war broke out, with the goal of limiting further escalation.
The Pentagon on 8 October announced the deployment of the aircraft carrier USS Gerald R Ford to the Easter Mediterranean, which includes a carrier air wing of four fighter squadrons.
An unspecified number of ground-based US Air Force fighters are also flowing into the region, including Lockheed F-35 stealth fighters, Boeing F-15 air-dominance jets, Lockheed F-16 multi-role fighters and Fairchild Republic A-10 ground-attack jets.
Citizens of numerous countries are beleived to have been killed in the ongoing war, including nine confirmed Americans and at least one German, along with hundreds of both Israelis and Palestinians.