The Brazilian navy has received the last of seven modernised AF-1 fighter jets from Embraer, the airframer says.
The AF-1, which is Brazil's designation for the Douglas A-4 Skyhawk, was upgraded by the South American aerospace manufacturer to include modern navigation, weapons, power generation, communications, and sensor systems, including a multi-mode radar and new operating system.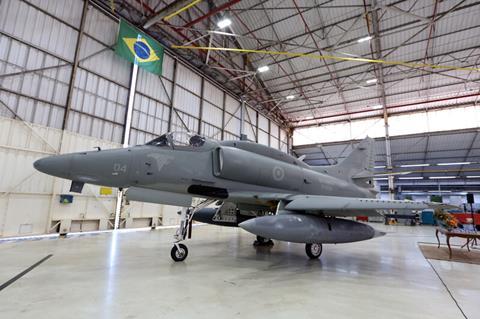 As part of the modernisation programme carried out by Embraer, a high-fidelity flight simulator was developed, permitting the Brazilian navy to conduct pilot training. Briefing and debriefing stations used in the training and proficiency of pilots were also provided to improve performance, reduce costs and bring greater effectiveness to mission planning and execution.
Upgrades were completed at Embraer's industrial unit in Gaviao Peixoto, in Sao Paulo state. Of the seven jets included in the programme, five were AF-1B single-seat variants and two were AF-1C two-seaters.