The last cohort of Brazilian air force pilots preparing to fly the Saab Gripen E/F fighter has completed flight training in Sweden.
Swedish airframer Saab announced the milestone on 12 July, saying the last four pilots receiving so-called "Delta Conversion Training" completed the course in June. The Swedish air force's Phoenix Squadron led the training at the Gripen Centre in Satenas, Sweden.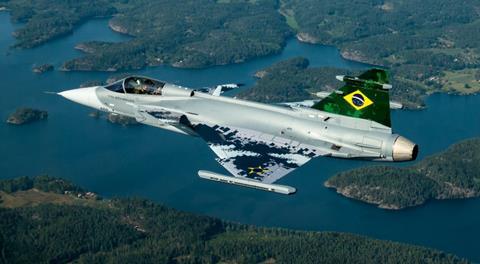 "The Phoenix Squadron is dedicated to the training of Gripen pilots," says squadron commander Major Richard Carlqvist. "The Brazilian pilots are highly trained and come here with extensive operational experience, both from the [Northrop] F-5M and AMX units."
Brazil in 2014 placed an order for the 36 of the latest Gripen E/F model, locally designated as the F-39. Its air force has been transitioning pilots from its existing F-5M light fighter and the AMX International ground-attack squadrons to fly F-39s.
The Gripen Centre in Sweden serves as a hub for training pilots who will fly Gripen, Saab says, both from foreign nations and its home air force. Students train on the older Gripen C/D model.
After completing certification, which spans 19 weeks and includes 75 flights per trainee, Brazilian pilots return home to complete further instruction on the F-39E.
"After being adapted to Gripen C/D in Sweden, our pilots will undergo their conversion to Gripen E entirely in Brazil," says Lieutenant Colonel Aviator Gustavo de Oliveira Pascotto, commander of the air force's 1st Air Defence Group, which is fielding the F-39 operationally.
Despite differences between the older and newer Gripen models, Saab says there is enough similarity with the latest version to make training on the Gripen C a valuable experience for converting pilots.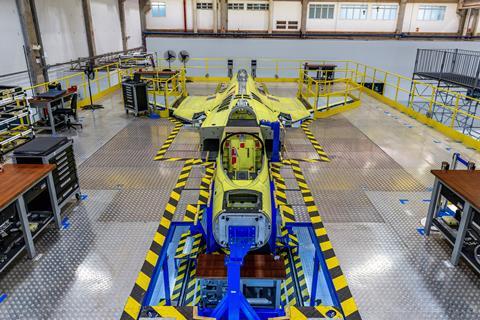 "It helps pilots understand the system, operational mode and flight controls," the company says.
A total of 21 Brazilian air force pilots went through the Gripen conversion training course in Sweden, which covered basic operations in both solo and formation flying, day and night flying and air-to-air combat capabilities familiarisation, including with the use of missiles and cannons.
Brazil received its first Gripen E in 2020 to support testing and systems development. The lead pair of operational F-39s arrived in the country in 2022 and entered active service in December.
The F-39 comes in the single-seat E standard and future two-seat F-model variant. Saab has partnered with Brazilian airframer Embraer to develop the F-39F.
Embraer will also complete final assembly of 15 of Brazil's 36 Gripens at its Gaviao Peixoto site in Sao Paulo State.
It marks the first time the Swedish-designed fighter will be built away from Saab's Linkoping site.