Canadian military aircraft have arrived in Israel to begin evacuating citizens from the war-torn Middle Eastern country.
The move comes as multiple commercial airlines have suspended service in recent days, following the 7 October surprise assault into Israel by the Gaza-based militant group Hamas.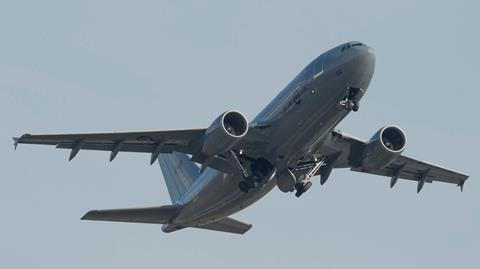 More than 1,200 Israelis were killed in that attack, with thousands of rockets being fired into Israel by Hamas, including strikes at major airports in Israel.
The Israeli military in response launched a sustained bombing campaign that has killed more than 1,000 people in Gaza.
In light of the disruptions to commercial air travel, Ottawa is joining a growing list of governments launching repatriation efforts for citizens trapped in Israel.
"We'll begin the assisted departure of Canadians from Tel Aviv in the coming days… with the help of aircraft from the Canadian armed forces," said Canada's foreign minister Melanie Joly in a video posted on 12 October.
Speaking separately from Ottawa on 12 October, Canada's top military officer General Wayne Eyre confirmed the Royal Canadian Air Force (RCAF) would contribute two Airbus CC-150 Polaris jets – a derivative of the Airbus A310-300.
The RCAF currently operates five of the modified passenger jets, two of which the service says have been configured for aerial refuelling. The RCAF uses the CC-150 to top off its Boeing CF-188 Hornet fighters and for VIP transport, including of the prime minister.
Repatriation flights will be available to Canadian citizens and permanent residents, as well as their spouses and children, Joy adds. Dual nationals are also eligible for evacuation.
Ottawa's travel and tourism office says the assisted departure flights will ferry Canadians to a "safe location", presumably where civilians can arrange onward passage on their own. The USA is taking a similar approach, albeit with chartered commercial flights.
"We are also working on additional options for those who cannot reach the airport in Tel Aviv," the Canadian government adds.
Eyre confirms the flights will shuttle Canadian evacuees from Tel Aviv's Ben Gurion International airport to Athens, Greece.
Around 21:00h Ottawa time, Joly posted to social media site X confirming that two RCAF evacuation flights had already departed Tel Aviv.
Ottawa is asking Canadians in need of travel assistance to contact the government through a variety of methods listed on the travel office's emergency assistance web page.